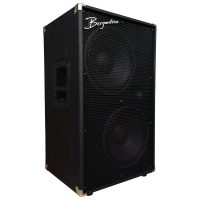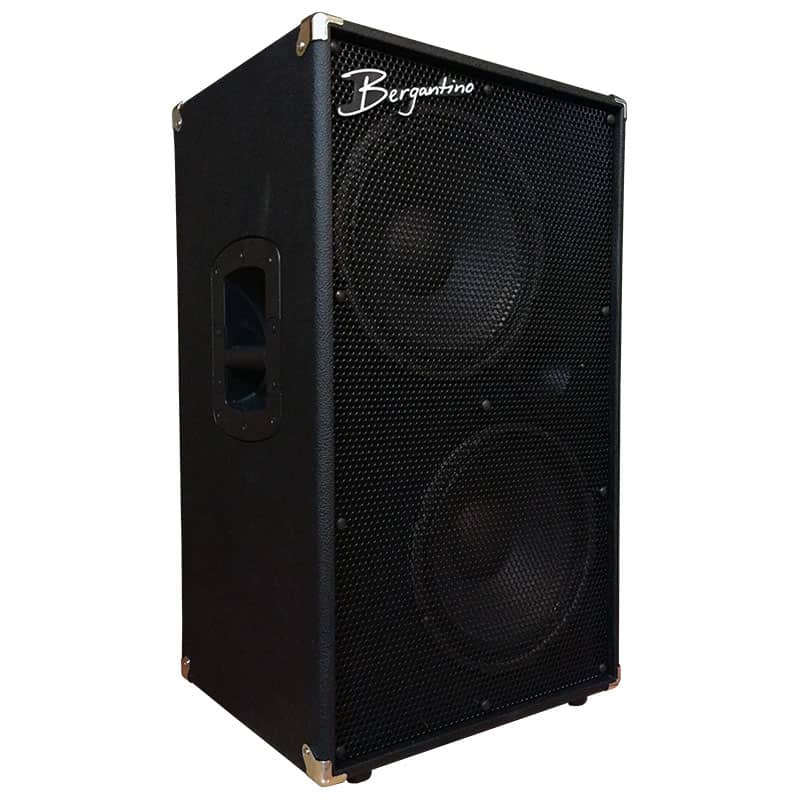 NV212T
Unique in the Bergantino Audio Systems line of speakers are the NV ('New Vintage') series of bass guitar speaker cabinets. The NV series cabinets are sealed (rather than the traditional ported design) which provides the NV cabinets with a tighter and more immediate bass response. All of the NV cabinets have side mounted recessed handles (at the right height to lift these onto any stage). The cabinetry on the NV series employ a precision tuned cabinet architecture and the enclosures are built with the finest 100% Baltic birch plywood. The NV212T is covered in traditional tolex for durability (no more carpet fuzz for your cat to claw) and they all employ a rigid black grille to protect the drivers.
The internal components used are extremely high quality and they are of Bergantino design. No 'off-the-shelf' parts are used. Woofers have ceramic magnets with vented pole pieces and the low-end on this series of cabinets is full and round. The NV series have remained a favourite of fingerstyle and pick players because of the tight-creamy low end found with these cabinets.
The Bergantino NV212T utilizes a unique tweeter matched with a custom phase-coherent crossover network that extends the range of this cabinet to 12KhZ. The NV212T has a tweeter level control on the back and turning the tweeter all the way off removes it from the circuit, so if you want the 'old-school vibe' – no problem. With the tweeter on, this cabinet can be a slap monster to match high-output demands – with the tweeter off, just great low end and midrange goodness.
The NV212T is a great choice for both flatwound and roundwound strings if you are playing rock, classic rock, funk or need a cabinet to cover many different styles of music. It is extremely open and has a high degree of articulation in the upper mids and top-end. A pick player may reduce the tweeter level to allow the 12″ drivers to provide warm grind with roundwound strings, but half-way up (flat setting) should be just right for fingerstyle playing when a lot of articulation is needed. The NV212T easily replaces your worn 4-10" or any of the vintage 2-12" cabinets and provides attitude, higher power handling and increased clarity and focus. If you already have an NV412/NV412T, this is a great way to have that same sound in a lighter, smaller footprint.
Specs
Performance
Drivers

2-12" Ceramic Magnet Woofers w/ Vented Pole Pieces

Tweeter

High Intelligibility NV Series Tweeter

Cabinet Design

Sealed

Power Handling

400W RMS

Impedance

8 Ohm

Frequency Response

43hZ – 12KhZ

Sensitivity

99db @ 2.83v / 1-meter

Crossover

Custom Phase-Coherent Crossover w/ Tweeter Control
Cabinet material
Wood

Baltic Birch Plywood
Measurements
Dimensions

H78.74cm W46.99cm D 38.10cm

Weight

31.75Kg