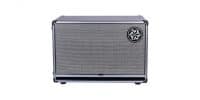 DG-210C
Cabinets are probably the most underrated link in a musician's signal chain. Players obsess relentlessly about instruments, pedals and ampli ers, not realising that without speakers, all of these elements merely generate or process electric signals.
Music though is heard and felt, not just measured. It is made of sound and speakers are what transform electric signals into that sound.
The Darkglass Electronics tone is distinctive and unique and is the foundation the brand's reputation is built upon. So, Darkglass could simply not continue disrupting the bass guitar market without addressing the most essential part of the signal chain – speaker cabinets.
More than just a perfect match for the award winning Microtubes 900 and brand new Microtubes 500 bass ampli ers, the Darkglass DG-210C cabinet is loaded with a pair of 10" custom made Eminence drivers and a proprietary crossover circuit designed to enhance distortion excited-harmonics in a unique and pleasant way.
DG-210C is the complete answer to a market in dire need of a new player to shake things up.
Specs
Performance
Drivers

2x10 loaded with Custom 10" Eminence ceramic speakers

Tweeter

Ferrite Magnet HF Horn

Power Handling

500 Watts RMS

Impedance

8 Ohm

Sensitivity

97dB 1w@1M

Inputs

Dual Parallel Speakon Combo Connectors

Crossover

Custom Passive Crossover (@ 3.5 kHz)
Cabinet material
Wood

Baltic Birch construction
Measurements
Dimensions

H x W x D, 34cm, 61cm, 41.5cm

Weight

23Kg