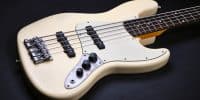 Nash Guitars
JB5 Medium Vintage White
JB5 Medium Aged Vintage White
This Nash guitar JB5 is the bass to have for most bass players. The look and the feel are as right as if you were at home with a fire in the stove, your dog sleeping on your feet and you might even consider smoking the pipe while warming your glass of cognac in your hands.
This bass features a super tradional wood combination of an alder body, maple neck and rosewood fingerboard. A cool aged finish on both body (3 tone burst) and neck gives that bass that classic vibe one never get tired of.
The sound is just right. Organic, clear and tonally well balanced, thanks to the wood combination and a pair of Lollar pickups. Since the bass is passive, the controls are kind of what you see is what you get. Very simple to adjust with instant results: a dream for both the bassist and the sound technician.
Nash Guitars goal in creating a 5 string bass was to keep true to the aesthetic of their JB63 while adding the lower 5th string. The JB5 is a great way to expand your tonal range, while not sacrificing the visual appeal of a vintage style instrument. The JB5 is available with all the same specifications as the JB63.
If you're a 4 string bass player that's never quite satisfied with the sound of a 5-s but still needs or would love to have one, this is the one to pick. On that Nash JB5, the sound is extremely close if not equal to a 4 strings and gives the same "home" feeling that arises for the style and general feel.
Wether you are used to 5 strings or not, the bass is in fact so comfortable and right sounding that you might end up taking it with you all the time, just as that pair of shoes you are wearing all the time
Specs
Body
Body Wood

Alder

Colors

Vintage White
Neck
Neck Wood

Maple

Fingerboard

Rosewood

Frets

20

Strings

5

HeadStock

Standard

Shape

C-neck shape

Tuning

Standard

Position Inlays

White Dots
Electronics
Preamp

Passive

Pickup

Lollar