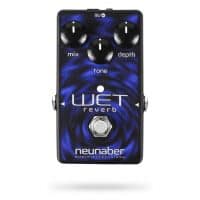 Neunaber Audio Effects is a brand name of Neunaber Technology LLC—a small family-run company started by Brian Neunaber in 2009. They are located near the Historic District in Orange, California.
Brian has been designing audio products professionally since 1994. He was previously the DSP Architect at QSC, where he helped to develop and implement several key processing technologies found in QSC's K Series powered loudspeakers and other products. Prior to this, Brian designed effects processors and a digital modelling guitar amplifier for St. Louis Music, who marketed products under the Crate and Ampeg brands. Brian has two patents and a Master's Degree in Electrical Engineering.
The Wet Reverb
v4: now with tone control and soft switch
Selectable trails, normal or two-stage bypass: trails while switch down, switches to normal/true-bypass on release
Fine Mix knob adjustment from 0% to 100% wet
Analog dry signal for low noise and zero latency
Mono input & output
Requires standard 9V pedal power supply (not included)
Made in USA—designed and manufactured in Orange, California
With the buffered-bypass version, the signal is always buffered whether the LED is on or off. With the true bypass version, the bypassed signal may be selected to be buffered or true bypass.
The three bypass modes are:
• Buffered Trails—allows the effect signal to trail off naturally after the pedal is bypassed
• Normal—cuts off the effect tail immediately when the pedal is bypassed. This mode is true bypass for the true-bypass version of the pedal.
• Two-stage Bypass (Wet Reveb only)—allows the reverb to trail while the footswitch is held down, then cuts off (to true bypass if available) when the footswitch is released.
CHANGING THE BYPASS MODE When the pedal powers on, the LED will blink to indicate the bypass mode: See the Tap Tempo section of the Echelon Echo for more information about Priority Mode. Priority Mode (Echelon only) Bypass Bypass – Tap Tap
Specs
Power
Power

Accepts a standard (5.5 mm OD x 2.1 mm ID) center-negative pedal power adapter (not included). The power adapter must be between 9 V and 12 V and capable of supplying 80 mA or more