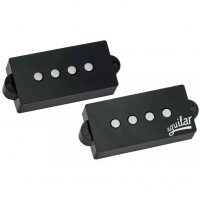 $

170.86excl. VAT
In stock
AG5P60
These pickups were designed and produced after extensive analysis of Aguilar president Dave Boonshoft's 1963 and 1964 Fender Precision bass guitars which were picked from his personal collection. The intention was to recapture the classic '60s bass sound of those instruments – a tone which can be heard extensively on a multitude of hit tracks from the decade. They are a great choice as a direct replacement for p-style basses.
Faithful to the Period
To recreate the vintage feel and vibe, Aguilar have used parts that were accurate to the period. Heavy formvar wire and alnico V magnets provide a big, well-rounded sound with a noticeable portion of mid-range 'nose'. This penetrates well through a mix (especially a rock one) and offers the low, thick tone that most P-bass pickups are known for.
Specs
Mechanics
Wire

Heavy Formvar 42

Magnets

Alnico V

Leads

Single conductor, cloth-covered