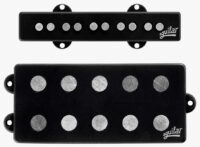 $

324.54excl. VAT
In stock
AG5M/J-HC
These calibrated sets include one of Aguilar's AG 4M or 5M pickup for the bridge position and the AG 4J-HC or 5J-HC pickup for the neck position.
The AG 4M and 5M humbucking pickups are wired in parallel to recreate the classic Stingray® tone – crisp treble, articulate midrange and thunderous lows.
By adding the AG 4J-HC or AG 5J-HC pickup, you can enjoy the deep, resonant tone of a neck position, Jazz Bass® pickup without any 60-cycle hum.
The AG 4M/J-HC and AG 5M/J-HC pickup sets offer players all of the characteristics that Aguilar pickups are known for – excellent string-to-string balance, consistency of tone and rich harmonic content. They sound great passive or active. When paired with an onboard preamp, such as Aguilar's OBP-1, 2 or 3, bassists will have the ultimate in tonal flexibility.
Specs
Mechanics
Wire

Heavy Formvar, 42 gauge

Magnets

Alnico V

Leads

Single conductor, cloth-covered