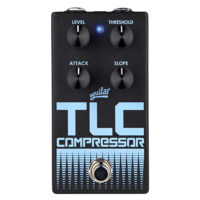 Aguilar
TLC Compressor
$

265.51excl. VAT
In stock
TLC Compressor
Iconic Aguilar circuitry gets a fresh new look!
The TLC Compressor ® is designed to give musicians the ability to control their dynamics in a flexible and musical way, making it an invaluable musical tool for both recording and onstage. Our proprietary Trans Linear Control (TLC) circuit enables us to achieve unprecedented levels of performance, usually found only in expensive studio compressors.
The TLC Compressor ® features a four-knob layout to provide a full set of important features. Using a wide range of attack times and variable threshold and slope levels, you'll be able to dial in your preferred amount and style of compression.
Specs
Knobs
Level

Controls the volume of the output. Used for setting loudness and make-up gain.

Threshold

Sets the input level at which compression begins. Turning the knob clockwise causes compression to begin at lower input levels.

Attack

Sets the amount of time before compression begins after a note is played. Turning the knob clockwise causes the attack time to become longer, allowing the leading edge of the note to be heard without compression.

Slope

Controls the compression ratio, or slope. As you turn the knob clockwise the dynamic range is compressed more.

Engage

Toggles between on and off. The blue LED indicates that the effect is on.
Power
Battery

9V

External DC Power

External DC Power: 9-10 VDC center terminal negative Current consumption 6mA
Outputs
Input

1/4"

DC Input

This is a standard 2.1mm DC jack. The center terminal polarity is negative. Compatible with 9-10 VDC regulated power supplies.

Output

1/4"