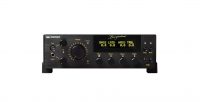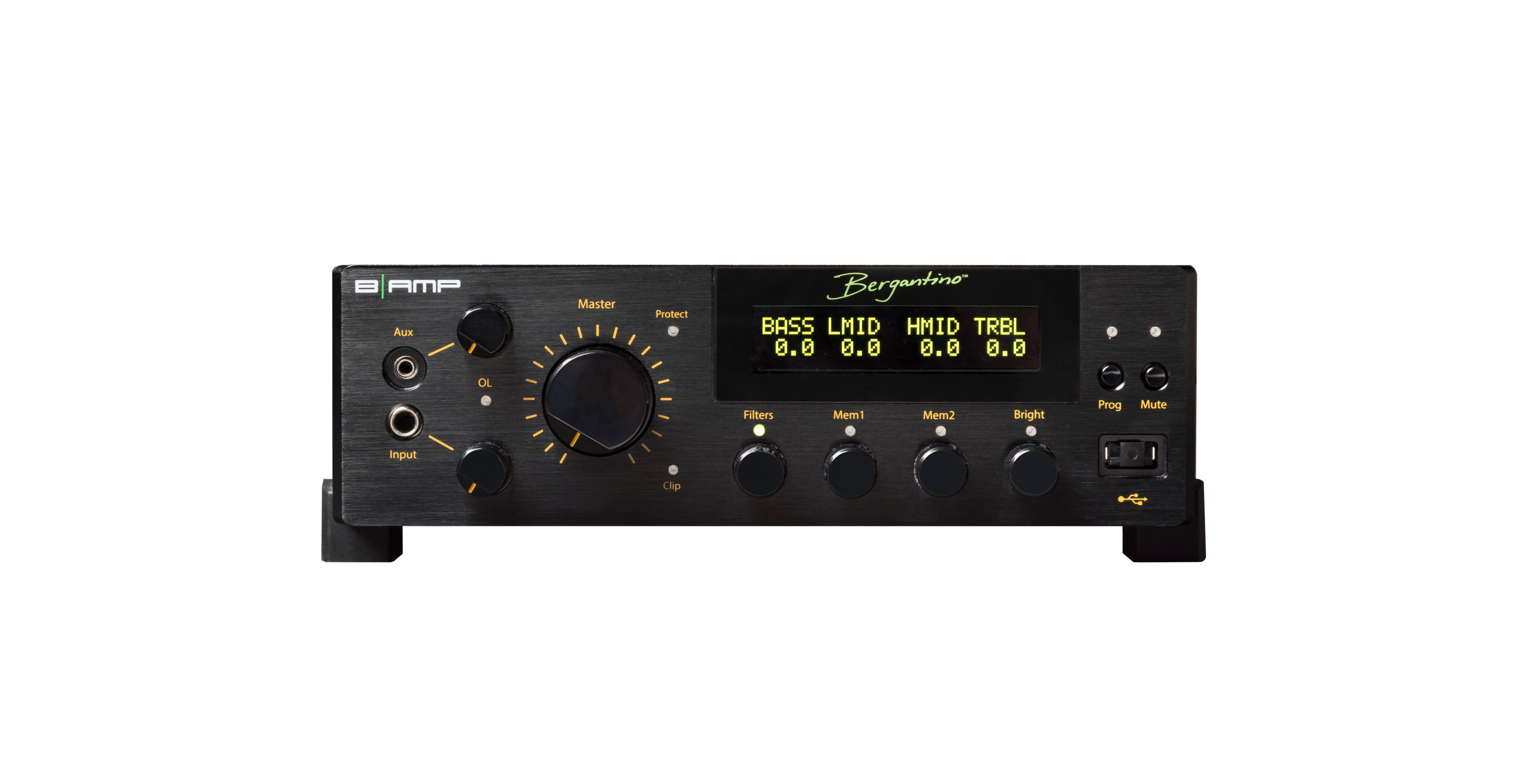 B Amp bass amp
B|Amp Mk2 Bass Amplifier
The ultimate working musician's toolbox
In late 2015, Bergantino Audio Systems founder and head engineer Jim Bergantino launched the original B|Amp. This award-winning, ground-breaking bass amplifier broke a new mould, winning a host of awards and accolades, not only from the industry but from the bass playing community worldwide.
With the B|Amp Mk2, this updated model gives the modern bassist even more tools for their sonic armoury. Time never stands still, so Jim has taken all the goodness from the original B|Amp design and brought it forward, not only updating its look with a gorgeous new OLED screen but also adding new and powerful features in the process, based on players' feedback and suggestions.
Perfect for the studio, rehearsing at home, recording or playing live, the highly advanced B|Amp Mk2 is incredibly flexible and delivers maximum performance in a lightweight, compact, yet intuitive package.
More than suitable for electric, electronic and amplified acoustic bass tones, B|Amp Mk2 plays well with any genre of music. With its 800 W RMS output, unique Speaker Profile System, 4-Band Multi-function EQ, Programmable Filters, built-in Chromatic Tuner, Variable-Ratio Compressor and BFT Drive Effects, it truly is a chameleon in the world of bass amplification.
Main Features:
• DSP Embedded System Controlled Bass Amplifier
• 800 W RMS output (@ 2,67/2 Ω), 700 W RMS (@ 4Ω), 350 W RMS (@ 8Ω)
• 4-Band Multi-function EQ with adjustable frequency range and "Q"
• Programmable Filters: Bright Switch, Variable High-Pass, Low-Pass and Feedback Filters
• Built in Chromatic Tuner
• On-Board Variable-Ratio Compressor (VRC)
• Scene-savable choice of Serial and Parallel compression settings (NEW!)
• Multi-Effects – Overdrive, Distortion 1 or Distortion 2 (Fuzz)
• Scene-savable Clean/Dirty blend percentage for Drive effects (NEW!)
• User-Programmable Memory Settings
• Revolutionary Bergantino Speaker Profile EQ System
• Auxiliary Input and Headphone jacks – ideal for personal monitor and practice use
• Effects send and return loop
• Dual Speakon Outputs
• Studio-Quality DI – selectable Pre or Post EQ
• Line Output – pre-amp or tuner out
• Selectable Phase Output (Normal or Reverse) available from here:
• Software Speaker impedance matching, for optimal power transfer
• USB port: allows software upgrades/profiles, optional wireless bit.ly/ADG-Bergantino-Media footswitch connectivity and portable device charging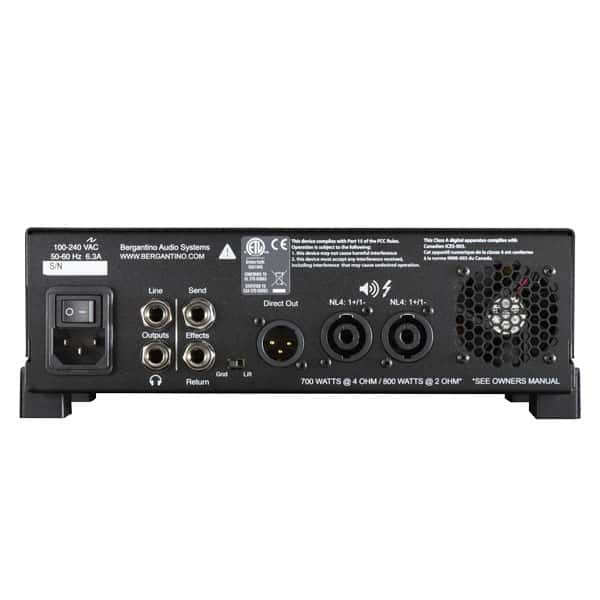 Drive Me Wild
Want some soft-clip purr added to your fundamental tone? With our Big Fat Tube (BFT) drive circuits, all of that is at your fingertips.
Overdrive adds harmonic texture to the circuit, extending the voicing of the B|Amp closer to the tone of a tube amplifier. The Distortion 1 setting is voiced like a tube amplifier driven into clipping, while the Distortion 2 mode recreates a harder-hitting tone, reminiscent of classic pedals.
Any of the three distinct drive tones can be used globally or easily saved in the memory settings. Also, you control how much drive you want mixed into your signal – even at 100% full drive, people will know who the bass player is.
Compress Not Depress
The built-in proprietary Bergantino Variable Ratio Compressor (VRC™) was designed to vary the compression ratio dynamically, to even out dynamics and thicken the notes for fingerstyle while curtailing large transients created by slap of pop style playing.
In B|AMP Mk2, VRC now comes with two options:
In Parallel mode, 50% of the signal passes through the compressor and then sums with the unaffected signal, for a note thickening that adds weight and smoothness to your tone.
Conversely, Serial mode takes 100% of your bass signal and compresses it, giving you a more traditional, more affected compression sound, popular for many styles of playing.
Total Recall
With the memory storing capability of the B|AMP Mk2, a complete tonal scene, including compression, effects and tone EQs (including bright adjustment), can be stored in either of the onboard memory locations for future recall. With the optional Bluetooth Wireless Footswitch kit, you can store three settings and select any of them at your feet – without any cables!
Multifunction EQ Tone and Filters
The B|Amp Mk2 employs a quasi-parametric EQ that lets you hone in on any frequency in the band as well as adjust the Q width of that frequency. With its Variable Feedback Filter, B|Amp Mk2 lets you find and hone in on that note to attenuate it accordingly.
Select Speaker Profile
If you're using a currently offered Bergantino speaker model, push and hold the Prog button to the right of the OLED display for 3 seconds to get into Program Mode. Push and release the Prog button 3 times to get to the Profile Select screen. Turn the Bass knob (right or left) until your speaker model appears on the display. Once your speaker is displayed on the screen you can press and hold the Prog button for 3 seconds to get back to the home screen or let it time out automatically after 15 seconds. Your speaker profile is now loaded into the Profile EQ section of the B|AMP's DSP processor.
Specs
Power and Ohm
Maximum Power Output

800 W RMS (@ 2,67/2 Ω), 700 W RMS (@ 4Ω), 350 W RMS (@ 8Ω)

Minimum Load Impedance

2Ω
Controls
Input Gain

Gain control for the Instrument input. Adjust this level to obtain maximum input gain before any flashing of the OL indicator occurs.

Aux Gain

Gain control for the Aux input device. Adjust this knob to achieve the desired level of your Aux Input source and to obtain the relative balance between this source and your instrument. If the OL indicator illuminates, turn down Aux Gain level on B|AMP until it no longer flashes. If it still flashes with level all the way down, turn level down from device connected to Aux input and then readjust Aux Gain level.

Master

This control raises and lowers the Master volume of the forté
Eq
Bass

Bass: +/- 9 dB Variable from 40 Hz to 120 Hz

Low Mids

Lo-Mid: +/- 9 dB Variable from 150 Hz to 800 Hz

Hi Mids

Hi-Mid: +/- 9 dB Variable from 800 Hz to 3 kHz

Treble

Treble: +/- 9 dB Variable from 3 kHz to 8 kHz
Toggle switches
Bright

+3 dB to +12 dB in 1 dB increments or variable from 2 kHz to 10 kHz in 500 Hz increments

Mute

When Mute is engaged, the red Mute LED will illuminate and the amplifier's Main output, DI output, and Line output will be muted. If the B|AMP's tuner is enabled (factory default), a fully digital chromatic tuner is activated and displayed on the OLED display.

Prog

From the Home Screen, press and release the Prog button to access and sequence thru the VRC compressor menu, Effects Menu, and Effx Loop engage Menu. Press and hold the Prog button for 3 seconds to enter Program Mode. The green Prog LED will illuminate (See Program Mode). Or while pressing and holding the Prog button, press Mem1 or Mem2 to save a tone-setting in that location (See Mem1/Mem2 Save in Extended Amplifier Features).

Ground Lift

This switch disconnects the ground on the balanced Direct Out, XLR output to eliminate hum and buzz when the amplifier is connected to equipment that is running on a different ground system.
Outputs
USB Port

This is where you can load up the custom speaker cabinet profiles (using a regular FAT 32 thumb drive), upgrade the software when we bring new upgrades to the platform or connect it to the (optional) B|Amp Bluetooth Wireless Footswitch kit for external control. This allows you to engage/disengage the amp's Mem1, Mem2, Mem3 and Mute functions remotely with the quick push of a footswitch – all without any wires!

Aux in

Aux input, with independent gain control, allows you to hook in your phone, computer or an MP3 player for playing along with recorded music or another line-level signal, like synths or drum machines for example.

Speaker out

Connects the amplifier to your cabinet. This Speakon combo jack allows for either Speakon or ¼" speaker cable operation. *WARNING: Do not use an instrument cable with this jack. Using an instrument cable can damage your amplifier.

Pre Amp Out

This output connects the preamp to a different power amp.

Direct Out

Studio quality DI sends an electronically balanced output signal eliminating the need for an external DI. This output can be selected to be PRE- EQ or POST- EQ (user selectable with Bright button). The DI out is 48V phantom power protected.

Speaker

Parallel Speak-On output connectors (Neutrik NL4 1+/1-). The minimum recommended speaker load for the forte' is user selectable down to a 2-Ohm minimum. A minimum of 16awg speaker cable is highly recommended.

Effect Return

Unbalanced 1/4" connector that accepts an instrument or line level return From external effects that are connected in a "series loop". It has a 1Vrms max. input level. If the OL LED illuminates, turn down levels from previous gain stages in the signal chain.

Efeect Send

Unbalanced 1/4" connector used when sending a full range, instrument level, mono signal to an external device (effects, processors, etc.)

Headphones Out

1/4" Stereo headphone jack designed to drive full-range headphones.
Mechanics
Dimension

26.7cm l x 7cm h 25.5 w (10.5 W x 8.375"D x 3.75"H)

Weight

3 Kg (6.5Lbs)