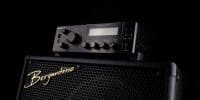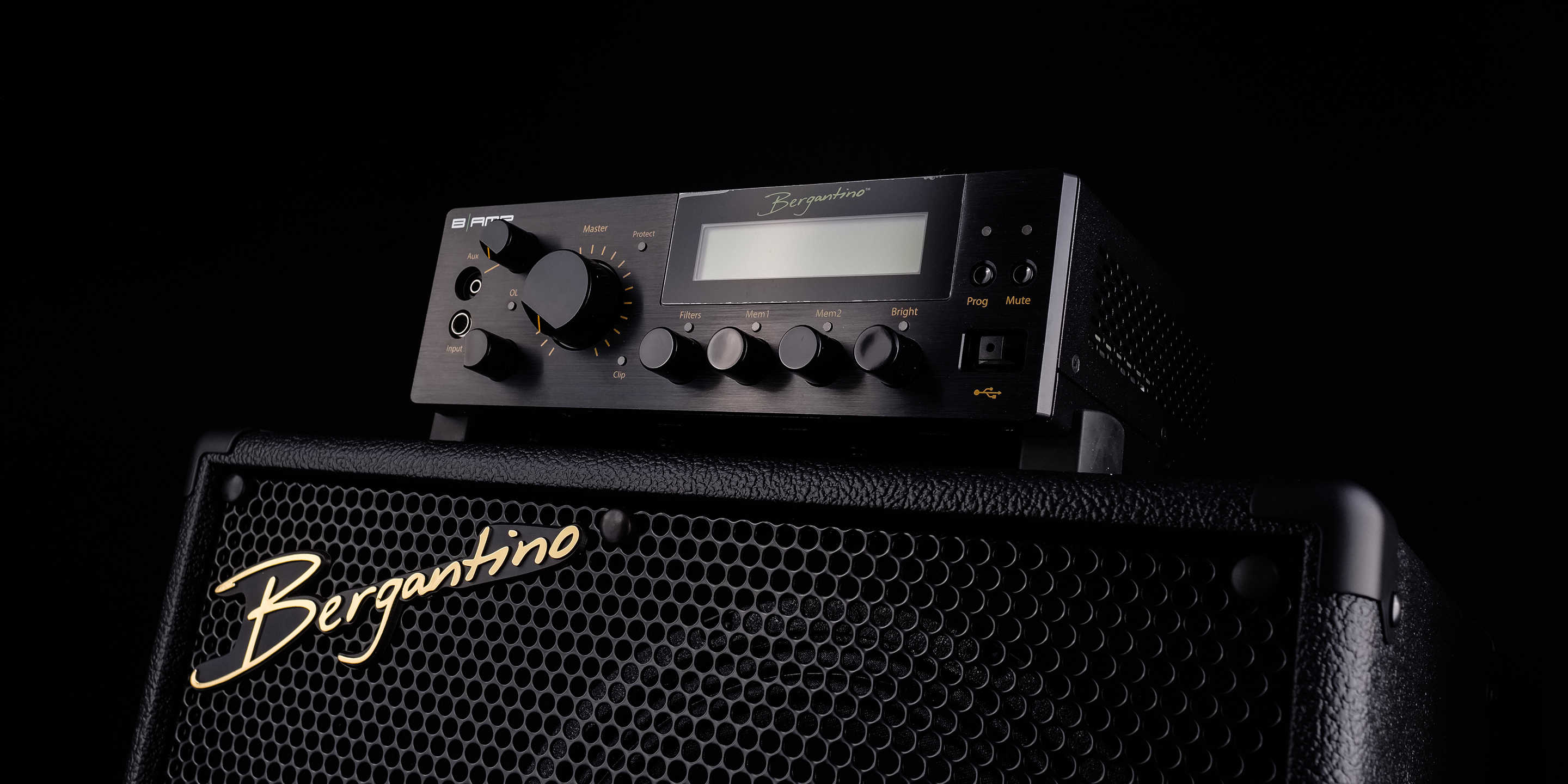 B Amp bass amp
The new Bergantino B Amp (pronounced "bee-amp") is a game changer in the Bass Amplification industry! The Bergantino Audio Systems' B|Amp is an incredibly flexible, state-of-the-art Bass Amplifier, delivering maximum performance in a compact package. The B|Amp takes a completely new approach to bass amplification by considering and including the speaker cabinet's response as part of the amplification signal path. No other bass amplifier on the market has the ability to manage speaker and overall system performance like the B|AMP. This is accomplished through our Proprietary Profile EQ system along with many other important and useful design features including:
DSP, Embedded System Controlled, Bass Amplifier
LCD Display
Multifunction Tone Controls; 4-Band EQ w/ Adjustable frequency range and "Q"

Bass: +/- 9dB Variable from 40Hz to 120Hz
Lo-Mid: +/- 9dB Variable from 150Hz to 800Hz
Hi-Mid: +/- 9dB Variable from 800Hz to 3kHz
Treble: +/- 9dB Variable from 3kHz to 8kHz

Programmable Filters

Programmable bright switch: +3dB to +12dB in 1dB increments, variable from 2kHz to 10kHz in 500Hz increments
Variable High-Pass Filter (VHPF): Adjustable from 30Hz to 80Hz in 2Hz increments
Variable Feedback filter: Adjustable from off to -6dB to -12dB in 1 dB increments. Frequency range from E1 (41Hz) to G3 (196Hz) in half step increments

On-Board Programmable Chromatic Tuner stable down to the low B fundamental
On-Board Variable-Ratio Compressor (VRC) with adjustable compression level & make-up gain
On-Board Multi-Effects for Overdrive, Distortion 1, or Distortion 2
Auxiliary input and headphone jack for personal monitor and practice use
Effects send and return loop
Studio quality Direct Output, software selectable Pre or Post EQ
Software Selectable Line Output (Pre-amp or tuner out)
UPS – Universal power supply 115VAC- 240VAC 50/60Hz
Software selectable Phase output (Normal or Reverse)
2 User Programmable Memory Settings
USB Port

Load Custom Speaker Profiles
Software Upgradable
Expandable System Architecture

Power Section: 350W RMS at 8-Ohms, 700W RMS at 4-Ohms, 800W RMS at 2.67-Ohms and 800W RMS at 2-Ohms

Software selectable, speaker impedance matching for optimal power transfer down to 2-Ohm minimum load.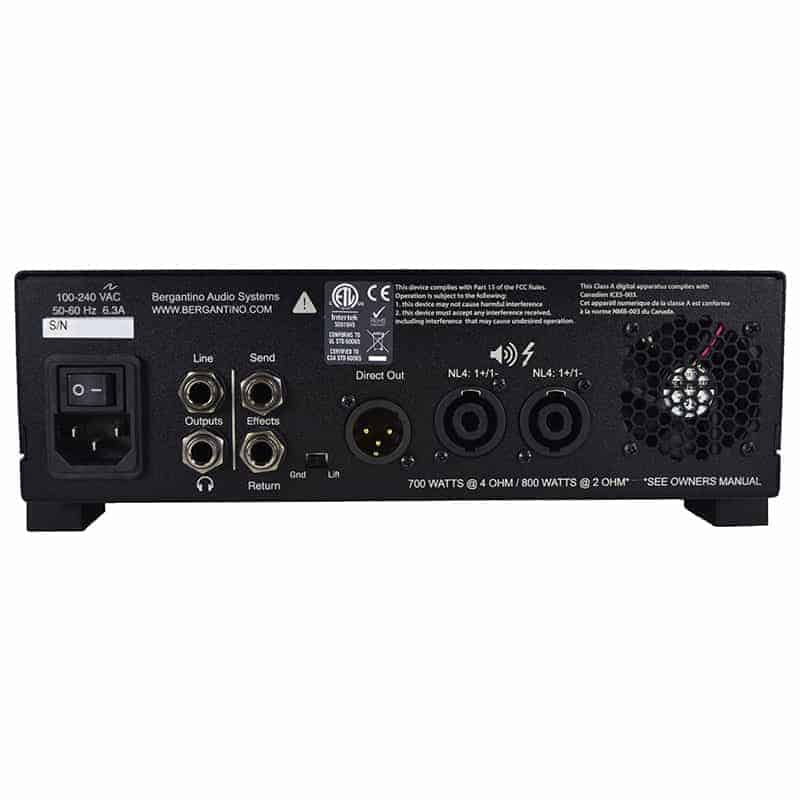 Specs
Power and Ohm
Maximum Power Output

700W RMS at 4-Ohms, 800W RMS at 2-Ohms

Minimum Load Impedance

2Ω
Controls
Gain

Gain control for the Instrument input. Adjust this level to obtain maximum input gain before any flashing of the OL indicator occurs

VRC

Variable Ratio Compressor Controls the amount of compression. Turning CW will engage compressor and increase amount and ratio of compression.

Master

This control raises and lowers the Master volume of the forté
Eq
Bass

Bass frequencies +/- 10dB @ 65hz

Low Mids

Lo-Mid frequencies +/- 10db @ 250hz

Hi Mids

Hi-Mid frequencies +/- 10db @ 1Khz

Treble

Treble frequencies +/- 10db @ 3.5Khz
Toggle switches
Bright & DI Pre/Post Eq selection Button

This button engages/disengages the forte's bright filter. It also toggles pre eq (green led) and post eq (yellow led) for the DI select when pressed and held for 2 seconds.

Mute & 4/8 ohm / 2 ohm operation Button

When Mute is engaged, the red Mute LED will illuminate and the amplifier's Main output and DI output will be muted. The output in the back of the amp will remain unmuted, as this serves as the tuner out for the forte'. Also, pressing and holding the mute button for 2 seconds will toggle the forte' between 4/8 ohm (green led) operation and 2 ohm (yellow) operation. (Fan is automatically engaged when operating in 2 ohm mode).

Ground Lift

This switch disconnects the ground on the balanced Direct Out, XLR output to eliminate hum and buzz when the amplifier is connected to equipment that is running on a different ground system.
Outputs
Speaker out

Connects the amplifier to your cabinet. This Speakon combo jack allows for either Speakon or ¼" speaker cable operation. *WARNING: Do not use an instrument cable with this jack. Using an instrument cable can damage your amplifier.

Pre Amp Out

This output connects the preamp to a different power amp.

Direct Out

Studio quality DI sends an electronically balanced output signal eliminating the need for an external DI. This output can be selected to be PRE- EQ or POST- EQ (user selectable with Bright button). The DI out is 48V phantom power protected.

Speaker

Parallel Speak-On output connectors (Neutrik NL4 1+/1-). The minimum recommended speaker load for the forte' is user selectable down to a 2-Ohm minimum. A minimum of 16awg speaker cable is highly recommended.

Effect Return

Unbalanced 1/4" connector that accepts an instrument or line level return From external effects that are connected in a "series loop". It has a 1Vrms max. input level. If the OL LED illuminates, turn down levels from previous gain stages in the signal chain.

Efeect Send

Unbalanced 1/4" connector used when sending a full range, instrument level, mono signal to an external device (effects, processors, etc.)

Headphones Out

1/4" Stereo headphone jack designed to drive full-range headphones.
Mechanics
Dimension

26.7cm l x 7cm h 25.5 w (10.5 W x 8.375"D x 3.75"H)

Weight

3 Kg (6.5Lbs)