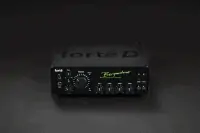 $

1,287.08excl. VAT
In stock
Forté D bass amp
Taking all that made the original, award-winning Forté bass amplifier such a well-defined tone champion, the Forté D adds Jim Bergantino's Big Fat Tube (BFT) and Parallel Dynamic Circuitry technologies and in the process moves this compact amp platform up a whole other notch.
Combining the BFT circuit with Parallel Dynamic Circuitry delivers exactly what bass players crave out of tube amplifiers but all in an easy to use, compact and lightweight format. From pristine and sparkling clean tones, to mildly pushed tube drive, to super heavy, mix-shredding saturation and everything in between, it's all here and in spades.

Bergantino has painstakingly analyzed those core drive attributes to give the modern bass player all of the good and none of the bad. You want that sweet, intoxicating soft clip purr? It's in there.  How about grit and growl to give you some more presence in a mix?  Yep, it's there too.  What about a massively saturated tube amp pushed within an inch of its life?  You've absolutely got it with the Forté D.
This drive is just as tight and controlled at a soft clip as it is full bore. Try it at low settings for just the right harmonic chime or max it out to really saturate your bass tone. With just a single knob, Bergantino has distilled drive and its nuances right down to the lowest common denominator – TONE. Tone that you don't have to spend hours dialing in.
But what if you desire pristine and sparkling clean tones? Not to worry, simply turn off the BFT technology and you've more than got it.
Bergantino's new Parallel Dynamic Circuitry builds on all of the best attributes of our compression wizardry found in some of their other products, then optimizes it for bass automatically for a sweet, note-thickening magic.
This new technology seamlessly integrates with the BFT drive feature, allowing for a very sensitive, touch dynamic that inspires, not only to achieve that pushed tube amplifier tone, but get the wonderful FEEL of total interaction between the player and amp.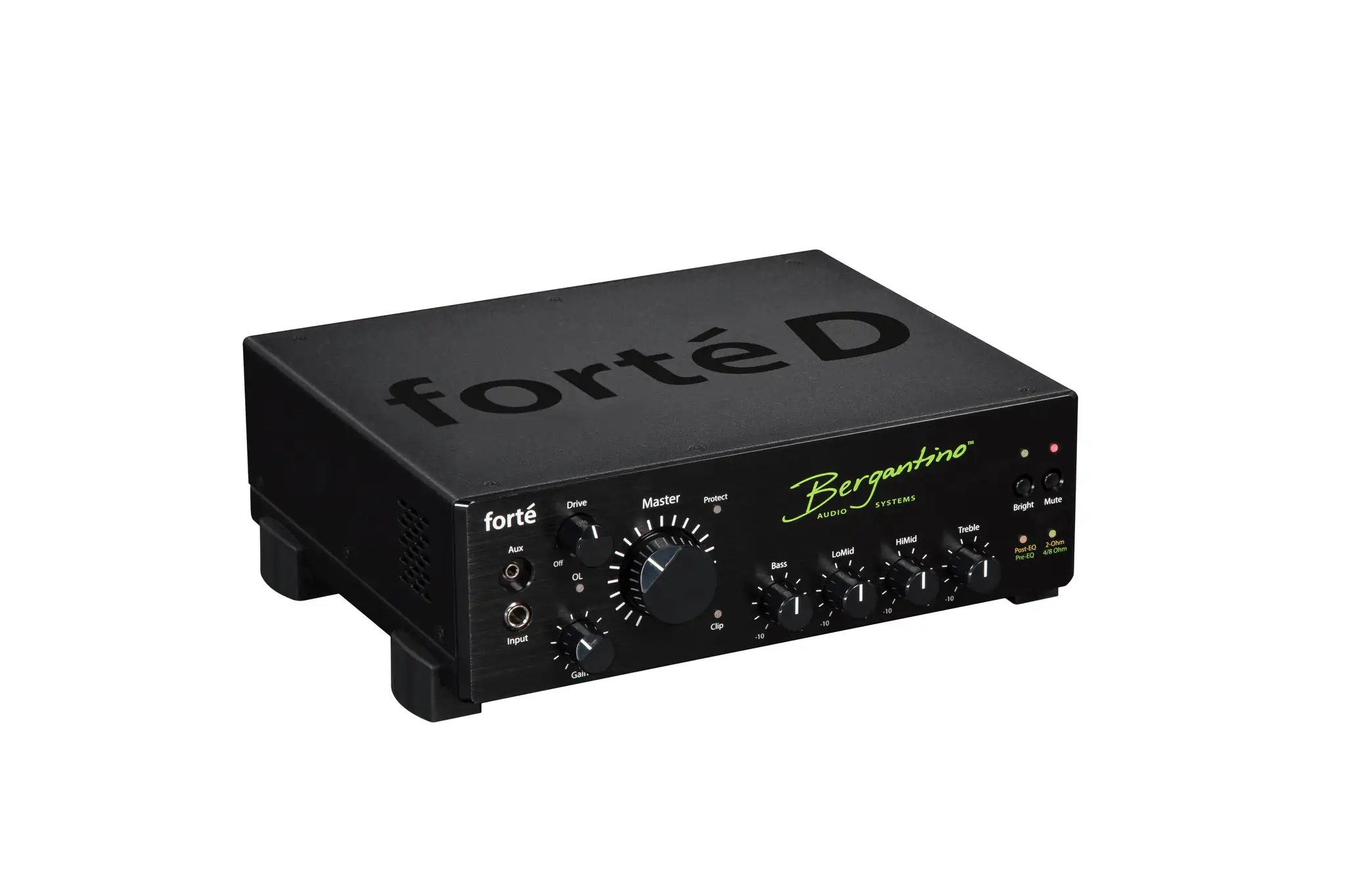 Specs
Power and Ohm
Maximum Power Output

700W RMS at 4-Ohms, 800W RMS at 2-Ohms

Minimum Load Impedance

2Ω
Controls
Gain

Gain control for the Instrument input. Adjust this level to obtain maximum input gain before any flashing of the OL indicator occurs

Drive

Controls the amount of Drive into the BFT (Big Fat Tube) circuit. Turning CW will engage Drive effect and increase the amount of harmonics

Master

This control raises and lowers the Master volume of the Forté D
Eq
Bass

Bass frequencies +/- 10dB @ 63hz

Low Mids

Lo-Mid frequencies +/- 10db @ 250hz

Hi Mids

Hi-Mid frequencies +/- 10db @ 1Khz

Treble

Treble frequencies +/- 10db @ 3.5Khz
Toggle switches
Bright & DI Pre/Post Eq selection Button

This button engages/disengages the forté D's bright filter. It also toggles pre eq (green led) and post eq (yellow led) for the DI select when pressed and held for 2 seconds.

Mute & 4/8 ohm / 2 ohm operation Button

When Mute is engaged, the red Mute LED will illuminate and the amplifier's Main output and DI output will be muted. The output in the back of the amp will remain unmuted, as this serves as the tuner out for the forté D. Also, pressing and holding the mute button for 2 seconds will toggle the forté D between 4/8 ohm (green led) operation and 2 ohm (yellow) operation. (Fan is automatically engaged when operating in 2 ohm mode).

Ground Lift

This switch disconnects the ground on the balanced Direct Out, XLR output to eliminate hum and buzz when the amplifier is connected to equipment that is running on a different ground system.
Outputs
Speaker out

Connects the amplifier to your cabinet. This Speakon combo jack allows for either Speakon or ¼" speaker cable operation. *WARNING: Do not use an instrument cable with this jack. Using an instrument cable can damage your amplifier.

Pre Amp Out

This output connects the preamp to a different power amp.

Direct Out

Studio quality DI sends an electronically balanced output signal eliminating the need for an external DI. This output can be selected to be PRE- EQ or POST- EQ (user selectable with Bright button). The DI out is 48V phantom power protected.

Speaker

Parallel Speak-On output connectors (Neutrik NL4 1+/1-). The minimum recommended speaker load for the forte' is user selectable down to a 2-Ohm minimum. A minimum of 16awg speaker cable is highly recommended.

Effect Return

Unbalanced 1/4" connector that accepts an instrument or line level return From external effects that are connected in a "series loop". It has a 1Vrms max. input level. If the OL LED illuminates, turn down levels from previous gain stages in the signal chain.

Efect Send

Unbalanced 1/4" connector used when sending a full range, instrument level, mono signal to an external device (effects, processors, etc.)

Headphones Out

1/4" Stereo headphone jack designed to drive full-range headphones.
Mechanics
Dimension

26.7cm l x 7cm h 25.5 w (10.5 W x 8.375"D x 3.75"H)

Weight

2.7 Kg (6Lbs)