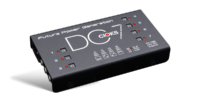 $

214.14excl. VAT
In stock
Since 1991, the Danish company CIOKS has been providing guitar and bass players with reliable power supplies dedicated for effect pedals. CIOKS DC7 power supply is part of our Future Power Generation range of professional power supplies. CIOKS DC7 provides 7 isolated high current outlets for pedals plus a 5V USB outlet providing power for a smartphone or tablet. Aside the USB outlet you have a 24V DC auxiliary outlet making it possible to expand the DC7 with additional isolated outlets with CIOKS 4 or CIOKS 8.
The DC7 is the thinnest, most flexible and most unique power supply for powering effect pedals currently available.
The groundbreaking DC7 has a one-inch (25,4mm) profile and weighs 1.1 pound (500 grams) thanks to the pure 2-stage switch-mode technology inside. The profile may be low but the power ratings are certainly not – the DC7 puts out a maximum of 48W and allows the user to connect multiple high-current effects such as devices from Effectrode, Line 6 and Eventide without noise of any kind.
CIOKS DC7 features 7 isolated DC-outlets for effect pedals each with four selectable voltages. Each of the outlets can put out 6W which corresponds to 660mA of current at 9V. Additionally the DC7 has also a 5V USB outlet and an auxiliary 24V outlet. The DC7 is expandable with CIOKS 4 Expander, CIOKS 8 Expander and the Crux for more isolated outlets and even more flexibility. Combined with the large set of CIOKS Flex cables included we are confident in that this is the most flexible, noise-free solution in the market for powering pedalboards with a multitude of different pedals.
Groundbreaking 1-inch profile (25,4mm)
2-stage switch-mode power supply topology
Ultra-low noise achieved by multistage filtering
7 isolated DC-outlets, 6W each
660mA at 9V DC on each outlet
4 selectable voltages on each outlet
5V USB outlet with max. 1A
24V DC auxiliary outlet with max. 2A
Individual power limit LED on all outputs
Built-in true power meter showing the total load
Global overload status LED
Universal mains input voltage 90 to 265V AC
Total maximum output power 48W
Mounting hardware for Pedaltrain and Templeaudio boards included
Compatible with CIOKS GRIP for drill-free mounting on Pedaltrain boards*
12 Flex cables included
Expandable with CIOKS 4*, CIOKS 8* and Crux*
Weighs 1.1 lbs. (500 grams)
Designed in Denmark, assembled in Poland
Outlets 1-7:
9V DC / 660mA or 12V DC / 500mA or 15V DC / 400mA or 18V DC / 330mA each
USB outlet: 5V DC / max. 1A
AUX outlet: 24V DC / max. 2A
Specs
Outputs
Outlets 1-5

Outlets 1-7: 9V DC / 660mA or 12V DC / 500mA or 15V DC / 400mA or 18V DC / 330mA each

USB outlet

5V DC / max. 1A

AUX outlet

24V DC / max. 2A

True power meter

The three small 2mm LEDs on top of the DC7 form a true power meter showing the total load of the power supply. When none of these three LEDs are lit the total load is below 40% of the total available power. When the load is above 40% you see the green LED turn on. At loads higher than 70% both the green and yellow LEDs are lit. When you exceed the 90% of the total maximum load all three LEDs will be lit.

Advanced LED Monitoring feature

Each isolated outlet has its individual LED status indicator. The indicator is lit in normal operation. The LED light gets dim when you operate just on the higher edge of the current mA limit for the voltage you have chosen on the given outlet. If you overload or short circuit an outlet, the respective LED indicator turns off. The light intensity of the status LED will be higher when the output voltage is set to a higher value than 9V being 12, 15 or 18V.

Global status indicator

If the SOL operates within its total maximum output power limit and everything functions normally the red LED inside the letter O in CIOKS logo will be lit. If the power supply is globally overloaded or overheated this global status indicator will turn off. This will only happen if the SOL is not ventilated sufficiently and the temperature inside the power supply gets too high or most of all five outlets are overloaded. The operation of the SOL is maintained and your pedals are still powered. The show must go on, but you are just about to lose it. If the overload is severe the SOL goes into hiccup mode and both the CIOKS LED and all five status LEDs will be pulsing. The power to your pedals is cut off. The SOL in hiccup mode will not damage your pedals.
Dimensions
Dim

160x88x25,4mm
Power
Power

90-265VAC, 50-60Hz, max. 58W