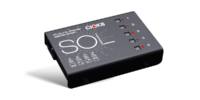 $

151.42excl. VAT
In stock
Since 1991, the Danish company CIOKS has been providing guitar and bass players with reliable power supplies dedicated for effect pedals. CIOKS SOL power supply is part of our Future Power Generation range of professional power supplies.
Cooks SOL is the ultimate solution for bringing life to a small to medium-sized pedalboard setup, especially if you are using power-hungry pedals. SOL is the smallest mains-powered switch-mode power supply we make at CIOKS (no wall-warts here) and the no-frills design plus massive power will leave you free to focus on your creative spark.
CIOKS SOL has the same groundbreaking 1-inch profile (25,4mm) as CIOKS DC7
Ultra-low noise achieved by multistage filtering
5 isolated DC-outlets, 6W each
660mA at 9V on each outlet
4 selectable voltages on each outlet • Total maximum power 30W
Mounting hardware for Pedaltrain and Templeaudio Boards included
Compatible with CIOKS GRIP v2.0 for drill-free mounting underneath Pedaltrain boards*
9 Flex cables included
Designed in Denmark, assembled in Poland
5-year worldwide warranty
Outlets 1-5: 9V DC / 660mA or 12V DC / 500mA or 15V DC / 400mA or
18V DC / 330mA each
Specs
Outputs
Outlets 1-5

9V DC / 660mA or 12V DC / 500mA or 15V DC / 400mA or 18V DC / 330mA each

Top

CIOKS logo has a red LED placed in the middle of the letter 'O' and this functions as a global status indicator. For each outlet you have a voltage selector switch and an advanced LED indicator. A legend in the middle shows the voltage switch settings with corresponding output voltage values and the maximum current rating at the selected voltage.

Advanced LED Monitoring feature

Each isolated outlet has its individual LED status indicator. The indicator is lit in normal operation. The LED light gets dim when you operate just on the higher edge of the current mA limit for the voltage you have chosen on the given outlet. If you overload or short circuit an outlet, the respective LED indicator turns off. The light intensity of the status LED will be higher when the output voltage is set to a higher value than 9V being 12, 15 or 18V.

Global status indicator

If the SOL operates within its total maximum output power limit and everything functions normally the red LED inside the letter O in CIOKS logo will be lit. If the power supply is globally overloaded or overheated this global status indicator will turn off. This will only happen if the SOL is not ventilated sufficiently and the temperature inside the power supply gets too high or most of all five outlets are overloaded. The operation of the SOL is maintained and your pedals are still powered. The show must go on, but you are just about to lose it. If the overload is severe the SOL goes into hiccup mode and both the CIOKS LED and all five status LEDs will be pulsing. The power to your pedals is cut off. The SOL in hiccup mode will not damage your pedals.
Power
Power

AC mains input: 100-240VAC, 50-60Hz, max. 42W