Subspace intergalactic
Hamstead Soundworks' journey to push the boundaries of what a drive pedal can be, has come to its next logical stop. This is the Subspace Intergalactic Driver – all of the analogue versatility of Odyssey by Peter Hamstead, now optimised for low frequencies.
With its re-voiced circuit, enhanced with the addition of a parallel dry control, Subspace allows you to craft your perfect driven sound without losing any character or low frequencies from your original signal. You'll be taken on a journey from clean boost with tone shaping, to warm vintage valve style overdrive, through to defined distortion and all the way to glitchy oversaturated fuzz.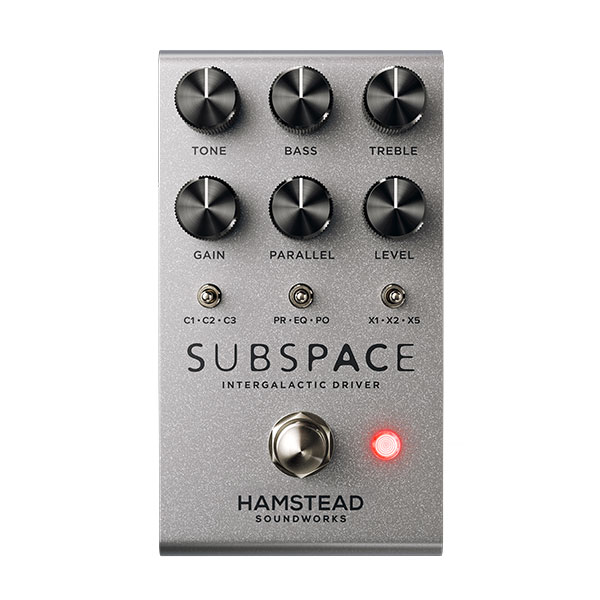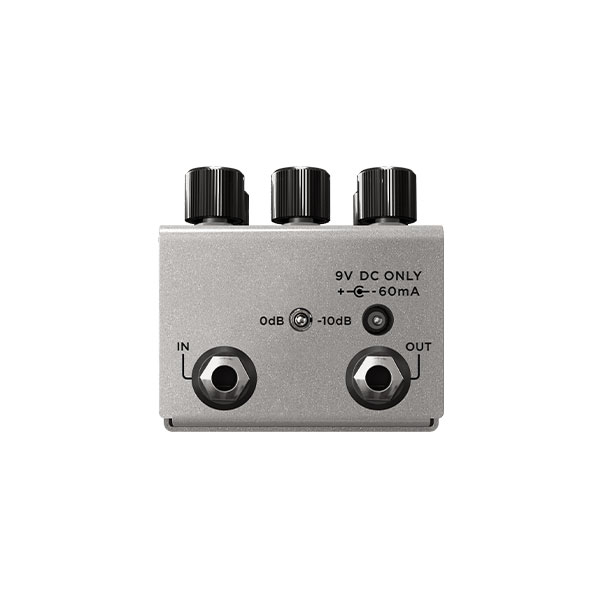 Main Features
• Boost/Overdrive/Distortion pedal optimised for low frequencies
• Perfect for Electric Guitar, Bass and extended range Instruments
• Wide tonal spectrum from warm vintage Overdrive to glitchy oversaturated Fuzz
• Parallel Dry Control with up to +6 dB boost
• 3 Clipping Circuits:
C1: symmetrical clipping – for consistent classic pedal drive tones C2: asymmetrical clipping – creates transparent low gain drive with defined attack C3: two clipping circuits – for natural, amp-like drive and distortion
• 3 Input Gain Boost modes – for up to +14 dB boost (Unity, Double and 5x times Gain)
• Switchable order of the Drive & EQ circuits
• Active EQ with +/-18 dB of Clean Treble & Bass Boost & Cut
• Powerful Instrument & Amp Tone Shaping
• 10 dB Input Pad Switch for Low Gain Tones
• All-analogue design with silent optical switching and OptoKick footswitch
• Powered by 9V DC PSU (Centre -, 2,1 mm, 65 mA current draw)
Specs
Knobs
Tone

Controls the level of high frequencies in the Drive Circuit.

Bass

Half of the EQ Circuit. Adds or cuts 18dB of bass frequencies

Treble

The other half of the EQ Circuit. Adds or cuts 18dB of treble frequencies. The indents mark the centre point, with flat EQ response.

Gain

Controls the level of gain in the Drive Circuit.

Parallel

The input signal is split by a buffer going into Subspace; unlike a blend controls 100% goes to the EQ & Drive Circuit and 100% goes to the Parallel control. This is your pure signal unaffected by the Input Pad Switch or any other circuitry. Blend in your dry signal up to unity at the centre indent, or boost with up to X2 gain after the 12 o'clock position.

Level

Controls the output level of the PR, EQ and PO circuits. Be careful as there is potentially +38dB of boost available, so start with the level low and increase to the desired volume.
Dimensions
Dimensions

6,5cm x 7 x 13
Power
Power

9V DC PSU (Centre -, 2,1 mm, 65 mA current draw)