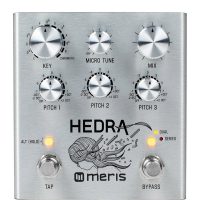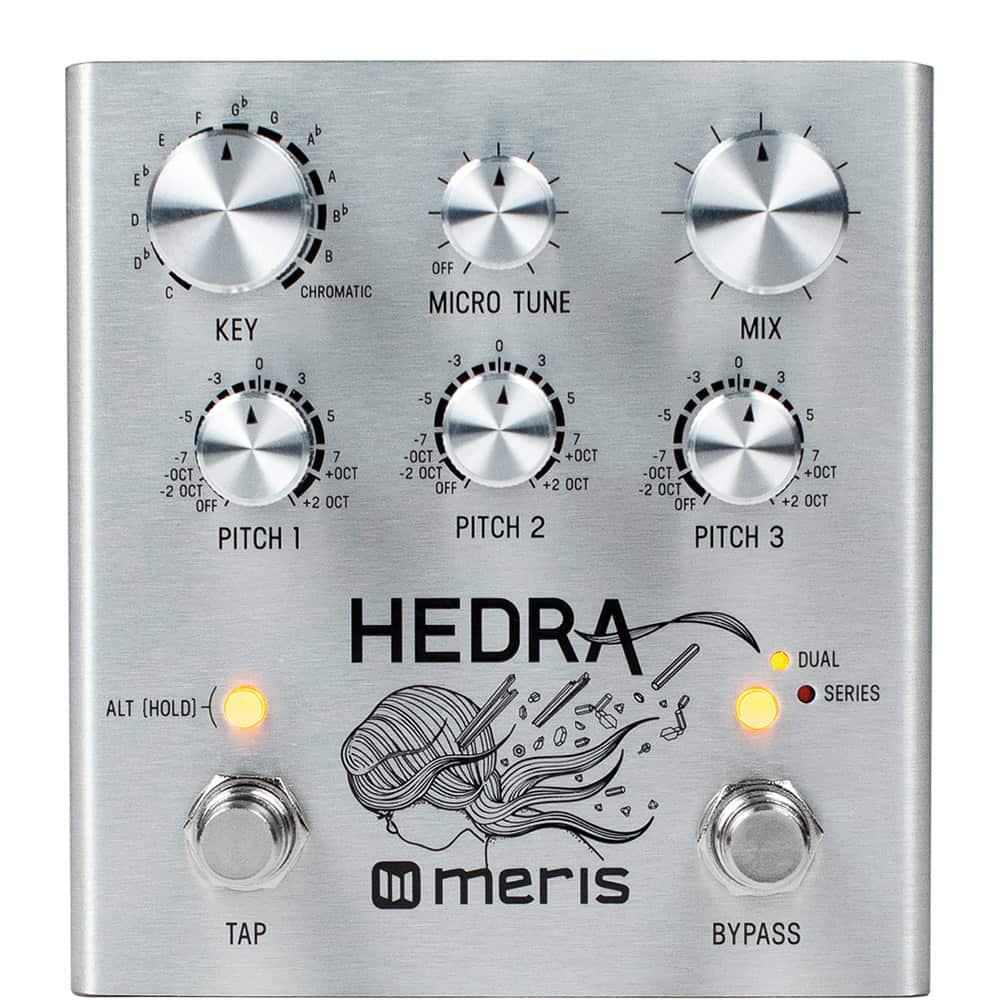 Meris Hedra
Plug in to Hedra to expand your melody palette and unfold your landscape. 3 voices, in rhythm combine with your original voice to create angelic harmonies. Each voice can be delayed and fed back in 4 intricate matrices for either predictable or unpredictable results. Explore endless creative avenues with pitch corrective locking and glide modes, either smooth or hard stepped. Add sonic unease and texture by micro tuning each voice.
3-Voice Rhythmic Pitch Shifter
Selectable Pitch Correction Types to ReVoice your Melodies in RealTime
Individual Controls for Pitch and Time Offset for each Voice (3 Voices Total)
Micro Tune control creates gentle chorus-like detuning, classic studio fattening, and extreme warping
Chromatic or Key Driven Harmony with Selectable Scale Types
4 Delay Configurations with unique Feedback Routing (520 mS max delay time)
Unique Keyboard Control putting a Live Quartet Under your Fingertips
Our Original Glide Mode slides between pitches at the speed you choose
Choice to sweep through Intervals smoothly or hard step for dramatic pitch effects
Switchable Half Speed and Auto Swell for advanced textures
Digitally controlled Analog mix control
Stereo input and output
Switchable input / output headroom level for Guitar or Synth / Line level
Expression pedal control over all parameters simultaneously
Presets available via external 4-Preset switch or MIDI
MIDI in/out over TRS via the EXP jack
External Tap Tempo over TRS
MIDI beat clock synchronization
Premium analog signal path and 24-bit AD/DA w/32 bit floating point DSP
Premium Analog Devices JFET input section
Color – raw brushed aluminum with clear coat
Designed and built in Los Angeles, California U.S.A.
Specs
Knobs
Key

Selects key for diatonic harmonies. Set to max for chromatic shifting Alt Function: Scale Type Select (from Min to Max): Major, Minor, Melodic Minor, Harmonic Minor, Double Harmonic, Eastern Pentatonic, Minor Pentatonic

Micro Tune

Slightly detunes all three pitch shifted voices Alt Function: Pitch Correction and Glide When the knob is between Min and Mid select between: No Correction, Loose Correction, Strict Correction. When knob is between Mid and Max selects amount of glide

Mix

Adjusts the balance between Dry and Wet signals Alt Function: Delay Feedback Controls delay feedback. Series delay modes: Pitch 3 sets the feedback loop. Dual delay modes: Pitch 1 and 3 both add to the feedback loop

Pitch 1

Pitch 1: Sets interval for the first pitch shifted voice Alt Function: Time Division 1 Sets a fraction of the main tempo for the first pitch shifted voice

Pitch 2

Pitch 2 : Sets interval for the second pitch shifted voice Alt Function: Time Division 2 Sets a fraction of the main tempo for second pitch shifted voice

Pitch 3

Pitch 3: Sets interval for the third pitch shifted voice Alt Function: Time Division 3 Sets a fraction of the main tempo for third pitch shifted voice Alt Function: Vibrato Depth Adds vibrato to the reverb input for lush, haunting trails.
Toggle switches
Alt Function Switch

Alt Functions are only accessible when this button is held

Mode Select

(Press to Select Mode) Dual: Splits the delay into 2 short delays with a stereo output Dual + Series: the same 2 short delays as Dual mode, now with cross-feedback Series: One long series delay with standard feedback Pitch Feedback: One long series delay with the pitch shifters in the feedback loop
Switches
Tap

Tap: Sets the main tempo/delay time. Total available time for the two Series delay modes = 520 msec. For the Two Dual delay modes = 260 msec Alt Function: Half Speed Enables the delay to run at half speed Hold Tap: Momentarily enable an automatic volume swell based on your pick attack

Bypass

Bypass: Disables processing and passes the input thru to the output Alt Function: Pitch Control Smoothing Enables smoothing of the Pitch knobs. Turn the smoothing off to hard step through the intervals
Performance
Conversion

24 bit A/D and D/A

Bypass

Selectable True Bypass (Relay) or Analog Buffered Bypass
Dimensions
Dim

10.8cm x 11.4cm x 5cm

Weight

0.41 kg
Power
Power

9V DC center-negative, 150mA, 2.1mm jack