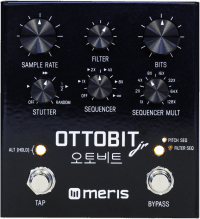 Meris
Ottobit Jr Bitcrusher
Meris Ottobit Jr Bitcrusher
From an era when visiting the arcade meant silicon-defined-sonics were burned into so many kids' memories (big and small alike), the Meris Ottobit Jr bitcrusher is inspired by the world of vintage gaming consoles, bringing those sounds directly to your pedalboard.
So what exactly is Ottobit Jr.? Well, it's a bitcrusher, but it would be an insult to just call it that. It's also an ultra-musical sequencer, stutter and filter effect, but it's not JUST that either. It's the sum of all of these parts that make the Ottobit Jr. what it is: a maniacal side-scrolling, coin-collecting, power-glove-punching-machine with a host of earth-shattering sounds that'll melt your face right off! Heck, the pedal is so unique and innovative that it deserves to have a verb all of its own. So plug in, press play and Ottobit away!
Ottobit Jr. takes everything that made the original Meris Ottobit 500-series unit such an innovative studio tool and crams it down into a rugged and roadworthy pedal suited for any rig, be it guitar, bass or synth. Basically, if you have a creative bone in your body and you love designing crazy and unique sounds unlike anything else, then the Ottobit Jr is for you!
Ottobit Jr. sports a fuzzy bitcrusher with variable sample rate, triggered stutter effects, a multi-mode sequencer module and a mind-blowing low-pass filter that sounds just as good as any analog synth filter out there. All of this is syncable and controllable via tap-tempo, expression and/or midi. But most important of all, Ottobit Jr. always stays super reactive to your playing, seeing you jump from fiery fuzz tones to classic arcade bleeps and bloops, only to end up in a barrage of 6-step sequencing and glitchy stutter effects without breaking a sweat and without ever sounding unmusical.
The Meris Ottobit Jr. is built to Meris' boutique standards in Los Angeles, California, USA. It features an analogue signal path and 24-bit AD/DA with 32-bit floating point DSP to ensure crystal clear sounds with loads of headroom.
Features:
Variable Sample Rate and Bit Crushing
Vintage Synth inspired Low-Pass Filter
Triggered Stutter Effects
Sequencer module for Pitch, Filter or Decimation pattern sequencing
Tap Tempo for Sequencer and Stutter
Stereo input and output
Switchable input/output headroom level for Guitar, Synthesizer or Line levels
Expression pedal control over all parameters simultaneously
Presets available via external 4-Preset switch or MIDI
MIDI in/out over TRS via the EXP jack
Remote Tap Tempo Switch capable via the EXP jack
Premium and hi end analog signal path
Designed and Built in Los Angeles, California U.S.A.
Specs
Knobs
Sample Rate

Changes the sample rate from 48 Hz to 48 kHz. Alt Function: Step 1 First step of the sequencer

Filter

Changes the cutoff frequency of custom filter. Alt Function: Step 2 Second step of the sequencer

Bits

Changes the bit depth from 1 bit to 24 bits. Alt Function: Step 3 Third step of the sequencer

Stutter

Changes the play speed and length of the stutter. Alt Function: Step 4 Fourth step of the sequencer

Sequencer Play Mode

Sets Sequencer to Play Once, Play Twice, Play 4 Times, Play 8 Times, or Play Continuously. Alt Function: Step 5 Fifth step of the sequencer

Sequencer Multiply

Sets the sequencer speed as a multiple of the tap tempo. Alt Function: Step 6 Sixth step of the sequencer
Toggle switches
Tap LED / Alt Function Switch

Blinks at tap tempo rate. Alt Functions are only accessible when ALT (HOLD) switch is held.

Bypass LED / Sequencer Type Switch

Switch LED Indicates bypass status. Small LEDs indicate active sequencer type. Both small LEDs OFF indicates sample rate sequencer active.
Switches
Tap Switch

Sets the speed and the timing of the Sequencer and the Stutter. Hold to freeze the Stutter Buffer.

Bypass

Processes signal when LED is ON, passes dry signal entirely in analog (buffered or relay) when OFF.
Performance
Conversion

Premium analog signal path and 24-bit AD/DA w/32 bit floating point DSP

Bypass

Selectable True Bypass (Relay) or Analog Buffered Bypass
Dimensions
Dim

10.8cm x 11.4cm x 5cm

Weight

0.41 kg
Power
Power

9V DC center-negative, 150mA, 2.1mm jack