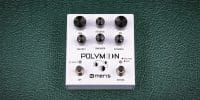 $

333.00excl. VAT
In stock
Polymoon Super Modulated Multi-tap Delay
Inspired by Frank Zappa's and Allan Holdsworth's innovative use of cascaded rack gear, this super-modulated delay was created to bring a new mind-altering dimension to guitar, bass and synth-players sonic palette with its deep and powerful algorithmic flow.
Practically riding on a tidal wave of shimmering stars and orbiting planets, the Meris Polymoon creates everything from perfectly pristine multi-tap delays, sweeping and shooting modulated bursts to swirling interstellar dreamscapes via its rich yet intuitive design. Just plug in and dream away!
Polymoon's unique delay algorithm truly sets the bar for what a modern-day digital delay effect should be. With its 1200ms of delay, 6 different multi-tap delay lines, a multi-mode stereo dynamic flanger, tempo syncable stereo barberpole phaser, dimension control for smearing delay lines together and a wealth of LFO and pitch-shifting modulation available via the ALT button, Polymoon is completely uninspired by specific pieces of classic gear. Instead, Polymoon seeks to capture and inspire certain moods and atmospheres with its epic cinematic sounds.
Sure, you can create a simple digital delay line if you want, but after 10mins you'll find yourself bathing in a heavenly sea of multi-tap delays augmented with pitch-shifting, wild flanger doubling and swirling phasers, all running perfectly in sync with your playing. When it comes to the Polymoon, more truly is more!
Designed to surpass requirements for studio and live use, the Meris Polymoon features 24bit A/D & D/A converters, 32 Bit floating point DSP hardware and a premium analog signal path that always stays true to your core input signal.
Now add one of the best stereo images ever put in a pedal, and extreme expressive capabilities via an external expression pedal or MIDI, and it's obvious that Meris has created something truly special in the Polymoon.
Features:
1200mS real time selectable multiple-tap delay line
Massive multi LFO modulation controls
6 custom tuned LFOs with adjustable waveforms for subtle to aggressive pitch shifting effects
Adjustable Tilt EQ filter in delay feedback
Tempo syncable stereo Barberpole Phaser
Multimode stereo Dynamic Flanger w/ feedback
Unique feedback topology
Dimension control for smearing reflections
Selectable quarter or dotted eighth note Tap Tempo
Digitally controlled Analog mix control
Stereo input and output
Switchable input output headroom level for Guitar, Synthesizer or Line levels
Expression pedal control over all parameters simultaneously
Presets available via external 4-Preset switch or MIDI
MIDI in/out over TRS via the EXP jack
External Tap Tempo over TRS
MIDI beat clock synchronisation
Premium and hi end analog signal path
Designed and built in Los Angeles, California U.S.A.
Specs
Knobs
Time

Sets the time for the delay and the synchronized phaser Alt Function: Early Modulation Triangle waveform modulation of the early delay taps. Ranges from gentle modulation, to FM, to pitch effects.

Feedback

Sets the feedback amount Alt Function: Feedback Filter Controls filter in the feedback path. Set to noon for no filtering, set towards minimum for a darker filter, set towards maximum for a brighter filter.

Mix

Adjusts the balance between Dry and Wet signals Alt Function: Delay Level Sets the gain of the Wet signal. Ranges from 0dB to -12dB. For auto-scaling, set to min.

Multiply

Sets the number of delay taps added to the output Alt Function: Late Modulation Triangle waveform modulation of the later delay taps. Ranges from gentle modulation, to FM, to pitch effects.

Dimension

Sets the dimension amount. Dimension smears and sustains the delay tap reflections Alt Function: Dynamic Flanger Mode Set to minimum for Envelope Down, set to noon for Envelope Up, and set to maximum for LFO

Dynamics

Sets the intensity/depth of the Dynamic Flanger. Flanger is off at minimum Alt Function: Dynamic Flanger Speed Sets the envelope attack time or LFO speed based on the Dynamic Flanger Mode
Toggle switches
Hold to access Alt Functions

Alt Functions are only accessible when this button is held

Press to Select Phaser

Slow: Stereo Barberpole phaser with fixed speed of 0.1 Hz Sync: Stereo Barberpole phaser with speed linked to a quarter note of the delay time Slow + Sync: Stereo Barberpole phaser with speed linked to a whole note of the delay time
Switches
Tap Switch

Sets the time for the delay and the synchronized phaser Alt Function: Dotted Eighth Note Changes current tempo from 1/4 notes to dotted 1/8 notes Hold Tap: to engage Half Speed Delay

Bypass

Disables processing and passes the input through to the output Alt Function: Dynamic Flanger Feedback Adds negative feedback to the Dynamic Flanger
Performance
Conversion

Premium analog signal path and 24-bit AD/DA w/32 bit floating point DSP

Bypass

Selectable True Bypass (Relay) or Analog Buffered Bypass
Dimensions
Dim

10.8cm x 11.4cm x 5cm

Weight

0.41 kg
Power
Power

9V DC center-negative, 150mA, 2.1mm jack