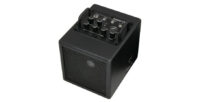 X4 Nano Bass
The NANOBASS is a single channel combo amplifier for multiple instruments such as Bass, Guitar, ukulele, violin, E-drum .that has an 6.35 Jack input socket for instrument, an 3.5 stereo jack auxiliary input for iPad/iPod, or drum machine, and a 3.5 stereo jack for your headphone. It features 3 band EQ that is perfectly tailored for your instruments, it also can play music with the Blue Tooth(5.0 with aptX HD) function.Using our extensive R&D facility which includes the largest anechoic chamber in the bass guitar amplifier industry and the KLIPPEL transducer measurement system (it uses lasers!), we were able to develop the perfect 4 inch loudspeaker. We analyzed the neodymium magnetic system, the cone behavior at all frequencies in 3D representation, cone suspension and frame, etc., until we had achieved a transducer beyond what anyone would have ever thought possible. Then we looked at the acoustic loading using the acoustic simulation software and calculated exactly the full power cone displacement at every frequency.
Phil Jones designed a custom Rectangular Auxiliary Low Frequency Radiator (RALFR®). It also reduces the cone excursion of the speakers, allowing greater power handling.
The proprietary PJB NeoPower 4-inch speakers have full frequency range to the highest audio frequencies. Not only does this give greater clarity and transparency to your instrument, but also a high-fidelity sound to any backing track fed into the auxiliary input.
The cabinet may be as small as a shoe box, but it is built to the same standards of all PJB cabinets, heavily braced internally and damped with acoustic damping materials to prevent cabinet coloration that can kill the true sound of your instrument. What you hear from the NANOBASS is the closest you can get to how your instrument actually sounds.
Audio front end on the Amp system of NANOBASS is one ADC chip PCM1861 from Texas Instrument. With special configuration, the ADC is running at 96KHz sampling rate to get wider frequency range and higher precision from the two analog inputs. Amplifier system of NANOBASS is built with one piece high-efficient Class-D power amplifier TAS5805 also from Texas Instrument. The chip is wired in Parallel BTL mode to drive the woofer, and its 768KHz output PWM carrier frequency is ideal for rendering high resolution sound. With low-ripple switch-mode power supply and integrated DSP-based active crossover and dynamic range control, the amplifiers provide sufficient horse power for the speaker driver.
NANOBASS also features an integrated Bluetooth audio receiver, which is built with Qualcomm's latest V5.0 chipset QCC3031. The chipset can support aptX HD codec, offering lower distortion and higher resolution Bluetooth audio playback than what traditional SBC can provide.
NANOBASS may be built for practice use, while it sounds a lot more than that. The sound image it renders exceeds its figure, and you may find it hard to believe the overwhelming sound wave are coming from such a tiny cube.
Specs
Power and Ohm
Power

35W

Speaker

PJB NeoPower, 4 inch speakers. Rectangular Auxiliary Low Frequency Radiator (RALFR®) Switch able high gain input OR low gain stage with mute function
Controls
Eq

3-Band EQ (Treble, Mid, Bass) 3Band EQ, Bass shelf 100Hz, +/-15dB; Mid shelf 1KHz Bandwidth 120Hz-10Kz, +/-15dB; Treble shelf 10KHz, +/-15dB;
Input
Input

Instrument Input,

Aux input

3.5 mm stereo jack with adjustable level This 3.5mm stereo Aux In jack provides the possibility to connect your mp3 player, your iPhone or other external audio sources. With adjustable level.

Bluetooth 5.0(aptX)

5. Auxiliary / Bluetooth level control & Mode select Rotate: Increase or reduce the input level for AUX and Bluetooth; Press: switch AUX/BT input mode, keep press will disconnect the Bluetooth. 6. Aux/BT mode Indicator Blue light steady lit: Bluetooth; Green light steady lit: Aux input. Note: For initial pairing, the blue light will flash when Bluetooth input is selected, pairing is successful, the blue light will be steady lit.
Outputs
Headphone output

This 3.5 mm stereo jack lets you connect your headphones.
Mechanics
Dimensions

160 x 200 x 197mm