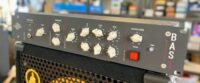 What would you use in the studio to get the best possible bass sound?
1: A great sounding preamp.
2: Parallel compression.
3: EQ.
This is exactly what BAS1 gives you! It simply represents the peak of our skills and efforts. And the result is without doubt the finest Bass Preamp that we could have ever imagined crafting.
It is designed to run directly to a FOH-console or the mixing desk in the studio via a transformer-balanced DI We even added a transformer-balanced AMP OUT to feed your amplifier/monitor on the stage.
Neutrik gold-plated ¼" Cable input
Transformer-balanced Neutrik gold-plated XLR Wireless input
Transformer-balanced Neutrik gold-plated XLR DI output
Transformer-balanced Neutrik gold-plated ¼" TRS out for external amps 
Adjustable Input Gain
Studio Quality Parallel Compression
Studio Quality 2-band Parametric EQ with Bandwidth control
Footswitch Control for Ser/Loop Par/loop and Mute
Studio Quality Low-End control
Overall Master Volume
Mute function
Worldwide voltage compatibility
your secret sauce for a killer bass sound


BAS1 Bass Channel
Introducing BAS1 – the tone monster that's about to change the way you experience your music. Picture this: every note you play takes center stage, oozing that authentic amplifier character that we all love. It's like having a classic amp, but with a futuristic twist.
But don't let the greatness fool you – BAS1 keeps things refreshingly simple. No need to decipher complicated controls. Take the preamp section, for instance – a single knob labeled GAIN is your ticket to sonic heaven. Plus, there's an LED meter that's got your back, helping you dial in that ideal Input Gain for the preamp, so you're always in the sweet spot.
Caveman Audio taken inspiration from the legendary Urei 1176LN and given it a special twist tailored just for bass guitar signals. The result? Your bass lines feel more alive than ever. And guess what? This magical compression runs alongside your original sound, maintaining its essence and dynamics. It's like giving your music a cozy blanket of warmth.
Here's the real beauty: Caveman Audio done the hard work for you. Attack and Release times are pre-set, perfectly attuned for bass signals. You just handle the Threshold and the Output/Blend settings, and you're golden. The kind of golden that takes your sound to a whole new level.
Now, get ready to sculpt your sound with finesse. The BAS1 got a two-band parametric equalizer and a trusty Bass control ready to rock. Whether you're looking for that thumping low end, a mid-range punch, or a crisp high, Caveman Audio got you covered. And don't worry about getting lost in the technical stuff – they made sure it's intuitive.
Feeling the groove at 80Hz? That's where the Bass control works its magic, focusing on that soul-shaking sweet spot. The Low EQ? It's got the 150 Hz – 3 kHz range locked in. And the Hi EQ? That's cruising through 600 Hz – 10 kHz. Both EQ bands offer up to +/- 15dB to play with, and they're designed with that musician's touch in mind.
As you're dialing in that perfect sound, the Master Volume slides in for the finishing touch. And when you want silence to speak volumes, the MUTE function steps up.
Specs
Knobs
Gain

Adjust the Gain

Threshold

controls when the compressor kicks in

Output

Sets the amount of compression

Bass

Sets the amount of low-end

Q 1

Controls how wide the Q is

Freq 1

Controls which frequency you want to work with

Gain 1

Cut and boost

Q 2

Controls how wide the Q is

Freq 2

Controls which frequency you want to work with

Gain 2

Cut and boost
Outputs
Input

Hi-Z Cable Input

DI

Transformer-balanced DI

Radio I/P

For wireless input

Amp Out

The output that goes to you amp preferable in the return of you amp Send/Return but you can also put it at the instrument input of the amp.

Loop (send/return) Series

For patching stomp boxes in series before preamp, but post input buffer

Loop (send/return) Parallel

For patching stomp boxes in parallel before preamp, but post input buffer

Footswitch

choosing Parallel or Series Loop and Mute
Dimensions
Dimensions

19" x 2U x 350 mm
Power
Power

100-240VAC 50/60Hz