Revolt Bass Analog Bass Amp Sim
Features:
3-channel bass amp simulator featuring an all analog signal path
Inject some warmth and bite into your tone courtesy of a 12AX7 preamp tube running at high voltage
DRY/WET to adjust the balance between the dry BASS IN signal and the MODERN DRIVE channel signal
Expertly engineered Analog Cab Sim for seamless DI whether it's in the studio or on stage
4-Cable mode, FX Loop and MIDI In/Out for effortless integration into existing setups
Robust, made-to-move design that's perfectly sized for pedalboards and fly-rigs
Includes a lifetime license to Wall of Sound and GENOME, the final word in digital app- and plugin-based tone-shaping for the forward-thinking player (VST/AU/AAX/Standalone)
Includes the ReVolt: Series-B DynIR Cabinet Collection (valued at 100€/$) featuring 10 exquisite DynIR captures inspired by leading guitar amplifier brands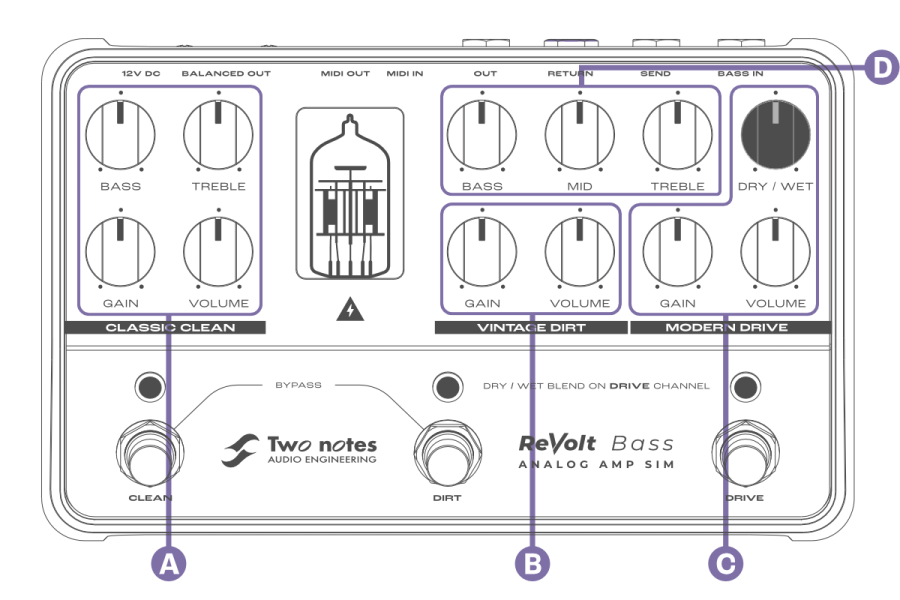 The Three Channels
A – CLASSIC CLEAN
Name Function
BASS Adjusts the passive low frequency voicing section. \\As the knob is rotated the signal is attenuated (down to -20dB) or boosted (up to +20dB), below 80Hz.
TREBLE As the knob is rotated your signal is attenuated (down to -20dB) or boosted (up to +20dB), above 2.5kHz.
GAIN Adjusts the amount of gain feeding the CLASSIC CLEAN channel. Increasing the gain can lead to signal distortion, and in extreme cases, unwanted clipping.
VOLUME Adjusts the output volume of the CLASSIC CLEAN, the volume is positioned pre the FX Loop. In the instance unwanted clipping occurs, try lowering the volume to ensure any subsequent devices in your signal path are not overdriven.
B – VINTAGE DIRT
Name Function
GAIN Adjusts the amount of gain feeding the VINTAGE DIRT channel. Increasing the gain can lead to signal distortion, and in extreme cases, unwanted clipping.
VOLUME Adjusts the output volume of the VINTAGE DIRT channel. The volume is located pre-FX Loop. In the instance unwanted clipping occurs, try lowering the volume to ensure any subsequent devices in your signal path are not overdriven.
C – MODERN DRIVE
Name Function
GAIN Adjusts the amount of gain feeding the MODERN DRIVE channel. Increasing the gain can lead to signal distortion, and in extreme cases, unwanted clipping.
VOLUME Adjusts the output volume of the MODERN DRIVE channel, the volume is positioned pre the FX Loop. In the instance unwanted clipping occurs, try lowering the volume to ensure any subsequent devices in your signal path are not overdriven.
DRY/WET Adjusts the balance of the input signal and the MODERN DRIVE channel signal
D – Shared EQ for VINTAGE DIRT / MODERN DRIVE Channels
Name Function
BASS Adjusts the Low Frequency content of the shared tone stack.
As the knob is rotated the signal is attenuated (down to -15dB) or boosted (up to +7dB), below 80Hz
MID As the knob is rotated the signal is attenuated (down to -10dB) or boosted (up to +10dB), centered at 620Hz
TREBLE Adjusts the High frequency content of the shared tone stack.
As the knob is rotated the signal is attenuated (down to -17dB) or boosted (up to +6dB), above 2.5 kHz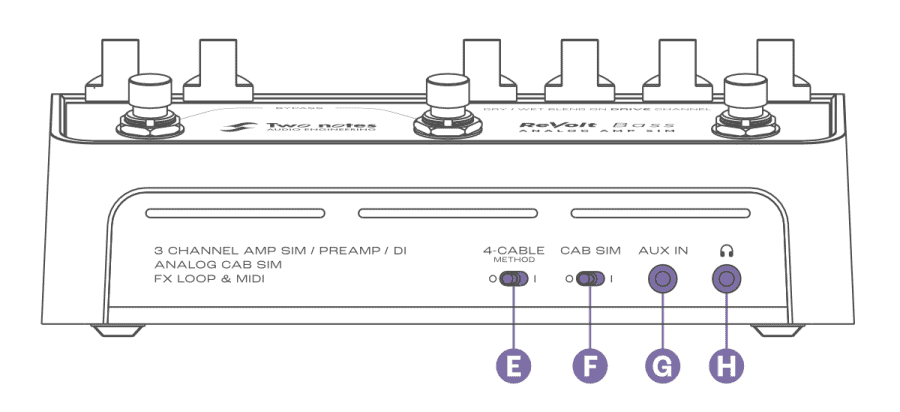 E – 4-CABLE METHOD
This switch determines the behavior of ReVolt's effects loop alongside its bypass behavior. See the section Supercharge your amp with the 4 cable method for comprehensive setup guidelines for this feature.
F – CAB SIM
Enables the analog cabinet simulation applied to the BALANCED and Headphone outputs of ReVolt by engaging the CAB SIM switch (I Position). For ReVolt Bass, the analog simulation is inspired by an Ampeg SVT-810E cabine
G – AUX IN
Connect your music player here and control the playback level via the source's controls. This input is stereo.
H – Headphone Output
The headphone output is a 1/8" TRS jack socket. This output is calibrated for headphones rated up to 100Ω. ReVolt's signal is mono – the AUX IN can only be heard in stereo via headphones. The cabinet simulation applied with the CAB SIM switch can also be heard through the headphone output.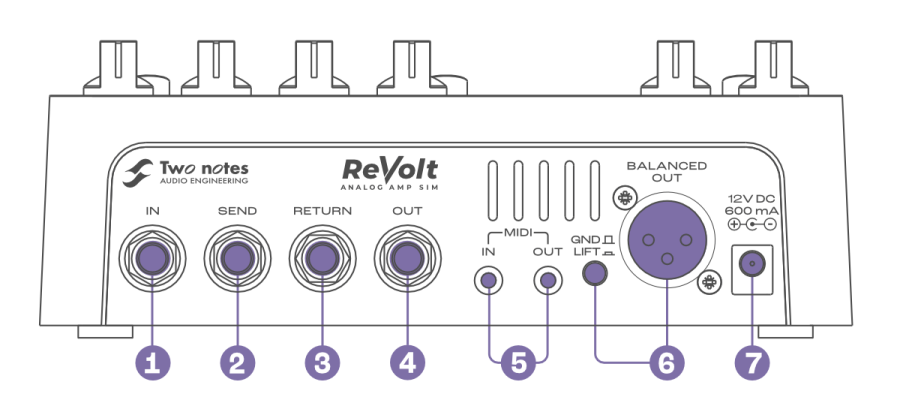 1 – IN
Connect your instrument here. The input is a ¼" TS (unbalanced) jack socket.
2 – SEND
Use this unbalanced output to connect to effects pedals or to an amp's Instrument input when the 4-CABLE METHOD switch (E) is activated. The SEND output is a ¼" TS jack socket.
When the 4-CABLE METHOD switch is activated, and when ReVolt is bypassed (no active channel), the SEND outputs the dry/unaffected guitar signal to the connected amplifier/device.
3 – RETURN
Use this unbalanced input to connect the output of any external effects to ReVolt, or connect the amp's effects loop SEND to this input when the 4-CABLE METHOD switch (E) is activated. The RETURN input is a ¼" TS jack socket panel-mount connector.
When using effects pedals (delay, reverb, etc.), ensure the 4-CABLE METHOD is set to O. The processed signal of the effects will be heard when a channel is active on ReVolt.
4 – OUT
This unbalanced output (¼" TS jack) sends the dry signal of ReVolt's channels – the CAB SIM is never applied to this output.
5 – MIDI IN/OUT
The MIDI In/Out sockets are ⅛" TRS jack panel-mount connectors. One TRS 1/4" jack to MIDI type A adapter cable is provided with ReVolt.
By default, ReVolt sends and receives Program Change (PC) messages from 1 to 7 . Edit all MIDI messages through ReVolt's dedicated MIDI Setup menus (see the MIDI SETUP section of the manual for more details)
6 – BALANCED OUT
Use this balanced output to connect directly to your audio interface, monitors or mixing desk. Apply speaker simulation to this output with the Cab Sim Switch (F). The GND/LIFT switch eliminates unwanted hum caused by ground loops when activated.
7 – MAINS POWER ADAPTOR
Connect the provided power supply here. ReVolt needs 12V DC, 600mA and a center negative polarity to work.
Specs
Knobs
Parameter/Preset Encoder

Selects Preset or Edit Parameter

Value/Volume Encoder

Volume or Edit Value
Effects
Clean Preamp

Inspired by an all orignial 74 silverface B man. The preamp the perfect clean pedal foundation for a stunning tone.

Reverb

Spring, Plate, Tile, Echo, Studio A, Studio B, Loft, Cathedral, Basement, Hall A, Hall B, Crypt.

Enhancer

Frequency and dynamic shaping Thickness and Brilliance for low-end and high-end emphasis Body for shaping the mid-range Guitar and bass modes

Power amps

4 classic tubes (EL34, EL84,6L6 and KT88), 2 circuit types (Class A and Class A/B) and 2 tube modes (Pentode and Triode

EQ

Post virtual cabinet EQ 3 modes: Guitar (5-band), Bass (5-band), Custom Custom mode: 5-band semi-parametric (-20dB to +20dB range) plus adjustable low shelf

Noise gate

emoves unwanted floor noise Noise level "learn" function Hard / Soft mode
Outputs
Balanced XLR DI output

XLR, balanced

Send

To Amp

Return

from Amp

MIDI

MIDI In & Out / Thru Din-5 Pin converter cables included

USB

USB for Remote application

Phones

Jack 3.5 mm (1/8") stereo (TRS, Tip/Ring/Sleeve) Impedance : 39 Ohms

Aux In

Jack 3.5 mm (1/8") stereo (TRS, Tip/Ring/Sleeve)
Dimensions
Weight

845 g

Dimensions

(D x W x H): 19.2cm x 11.7cm x 7cm
Power
External power supply

Mains power adaptor: 12V DC DC Jack 2.1mm, negative center 600mA Approx. 6W