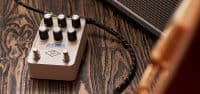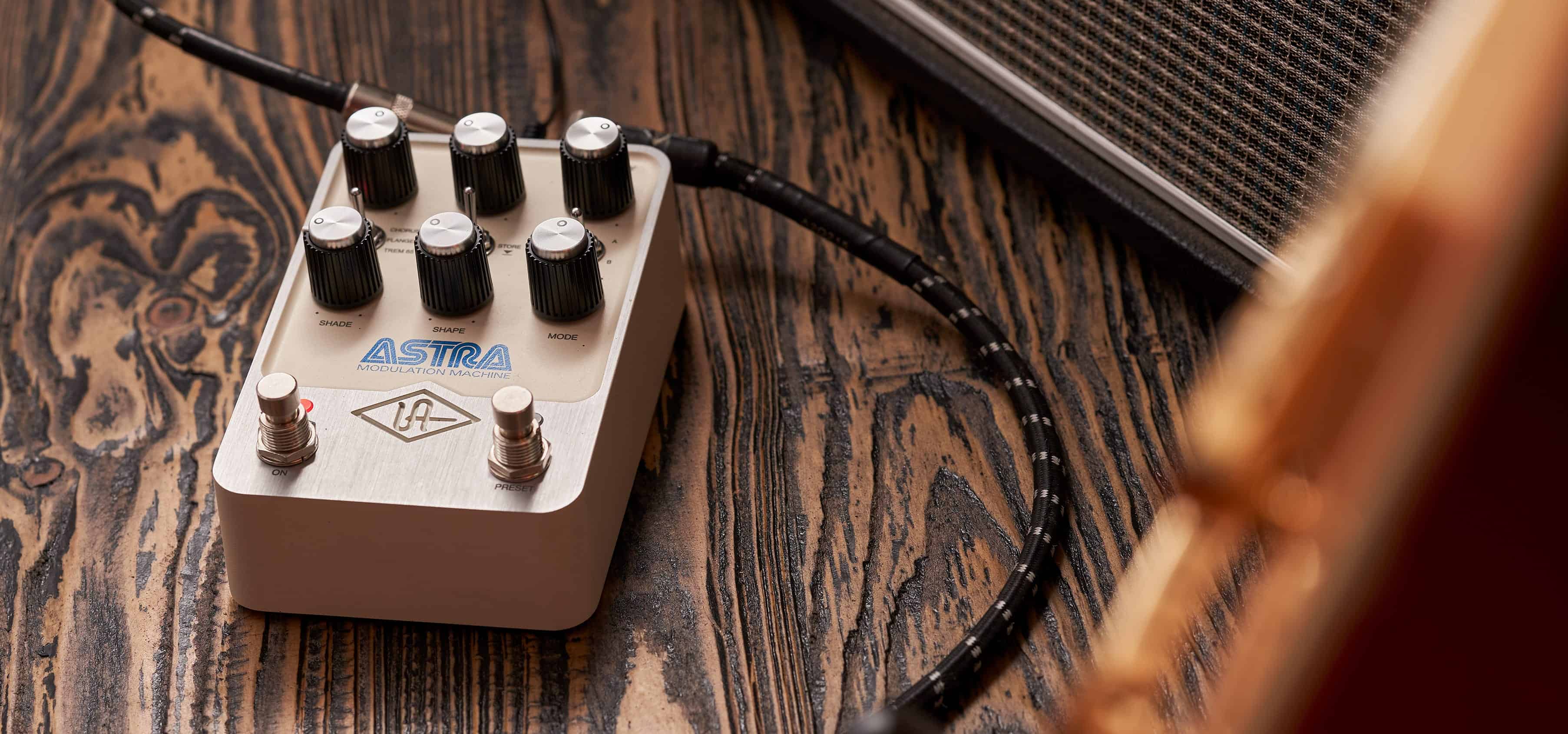 $

360.70excl. VAT
In stock (can be backordered)
Astra Modulation Machine
Taking you deep down the rabbit hole of classic analog modulation, UAFX Astra Modulation Machine serves up the most sonically authentic bucket-brigade chorus/vibrato, studio flanger/doubler, and tube-driven tremolo effects ever placed into a single stompbox. Built upon our powerful new UAFX dual-engine processing and unmatched levels of quirky analog realism, Astra delivers richly addictive vintage modulation, beautifully crafted to inspire you for decades.
Now you can texture your tones with iconic Japanese bucket-brigade chorus/vibrato, circa 1976, Quickly access sounds with Live/Preset modes, and play with silent switching, preamp coloration, and true/buffered bypass. Explore the outer limits with legendary rackmount bucket‑brigade studio flanging/doubling.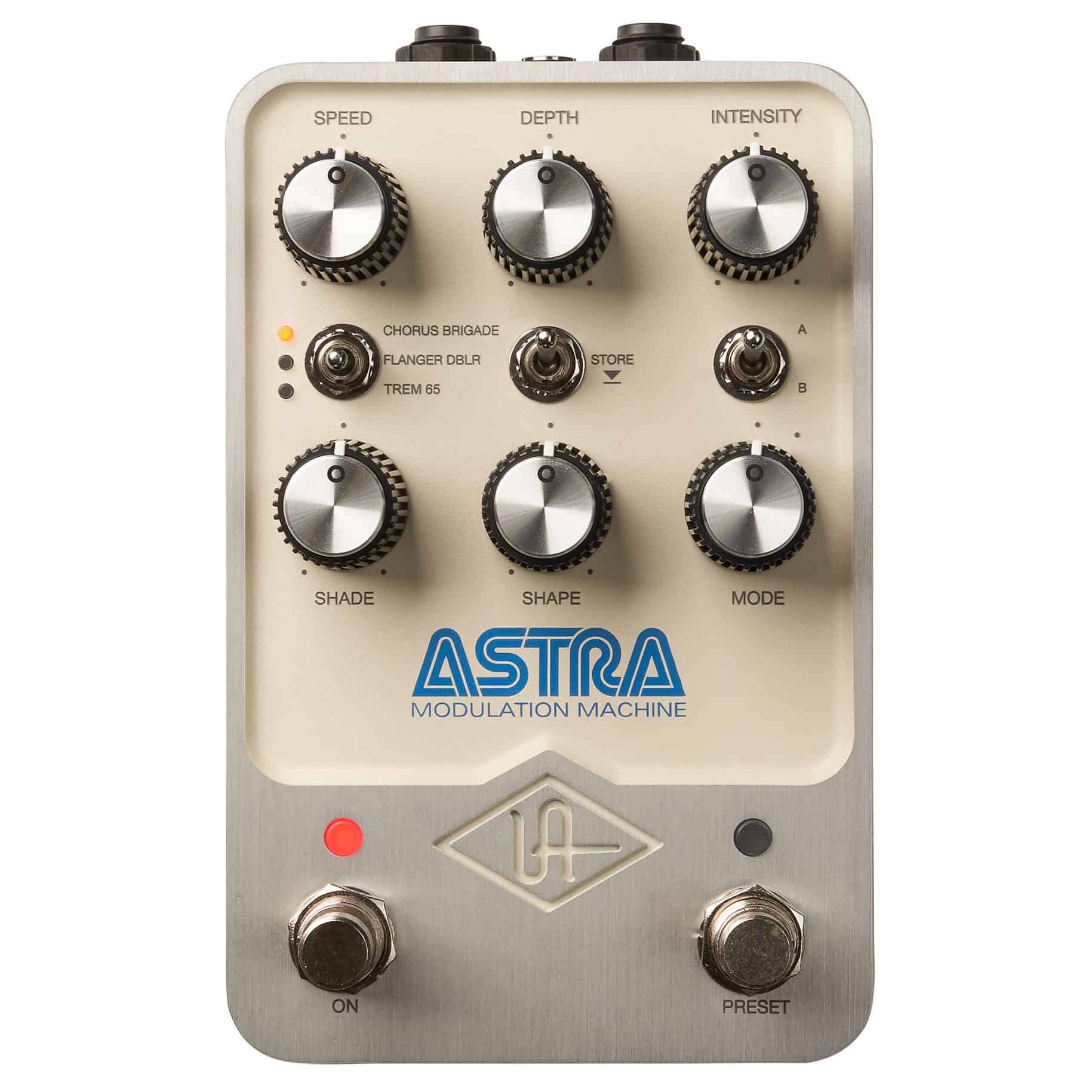 Chorus Brigade: Iconic Japanese Modulation
Upon its release in 1976, this legendary gray bucket-brigade stompbox changed the sound of music with its thick, luxuriant chorus and wavy vibrato. Astra's Brigade Chorus mode gives you the most complete circuit emulation of this landmark unit — including its preamp section for authentically thick, saturated sounds — letting you paint with subtle ripples of analog texture and tone, adding chewiness, shimmer, and motion to everything you play.
Flanger/Doubler: A Rackmount Studio Classic
Packed with late-'70s bucket-brigade tech, this classic rackmount studio flanger/doubler is famous for stunning whoosh effects, organic thickening, and a parade of wild sounds that go way beyond typical flanger boxes. Astra's Flanger/Dblr effect is the only end‑to‑end circuit emulation of this ultra‑rare unit, capturing its original features to a "T" and putting impossibly dense, complex flanging/doubling right at your feet.
Trem 65: Authentic Tube Amp "Shake"
Few things compare to the optical tube-driven tremolo of '60s American amplifiers. Deep, undulating, and the very essence of vibe, Trem 65 is a faithful emulation of this classic circuit. From shimmering ripples to choppy mayhem, every dynamic detail is captured in UA style, down to the complex interactions between the light source photoresistor and 12AT7 driver tube. Plus, you can explore further and create your own trem textures with variable sine and square wave settings.
Dual Stereo Modulation Engines for Endless Creativity
Astra's UAFX engine powers separate stereo instances of each modulation effect, thanks to its unique dual‑engine processing. It's like having two bucket-brigade hardware units running simultaneously — or even dual tremolo circuits — giving you a full stereo spread of complex, jaw‑dropping textures.


Specs
Knobs
Speed

Adjusts the modulation rate.

Depth

Adjusts the modulation amount.

Intensity

Adjusts aspects of the modulation character, depending on the effect.

Shade

Adjusts aspects of the modulation character, depending on the effect.

Shape

Adjusts aspects of the modulation character, depending on the effect.

Effect Type

Push this switch up or down to change the modulation model. When you push the switch repeatedly, the pedal cycles through all available effects.

Store

The STORE switch saves the current sound as the preset.

Variation A/B

Each modulation model (Chorus Brigade, Flager Dblr, Trem 65, Phaser X90, Dharma Trem 61) includes two variations that are selectable with the A/B switch. These modes are unique variations within each modulation type.

Left Footswitch

Press to toggle the effect on/off with current knob and switch settings.

Right Footswitch

The right footswitch can be set to access the preset, or provide tap tempo and access to the preset.
Outputs
Inputs

2 x ¼" unbalanced TS (input 2 for stereo connections)

Outputs

2 x ¼" unbalanced TS (output 2 for stereo connections)

USB-C

For future firmware updates
Power
Power

9VDC Center Negative 400mA Isolated Power Connection