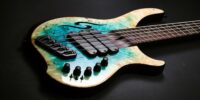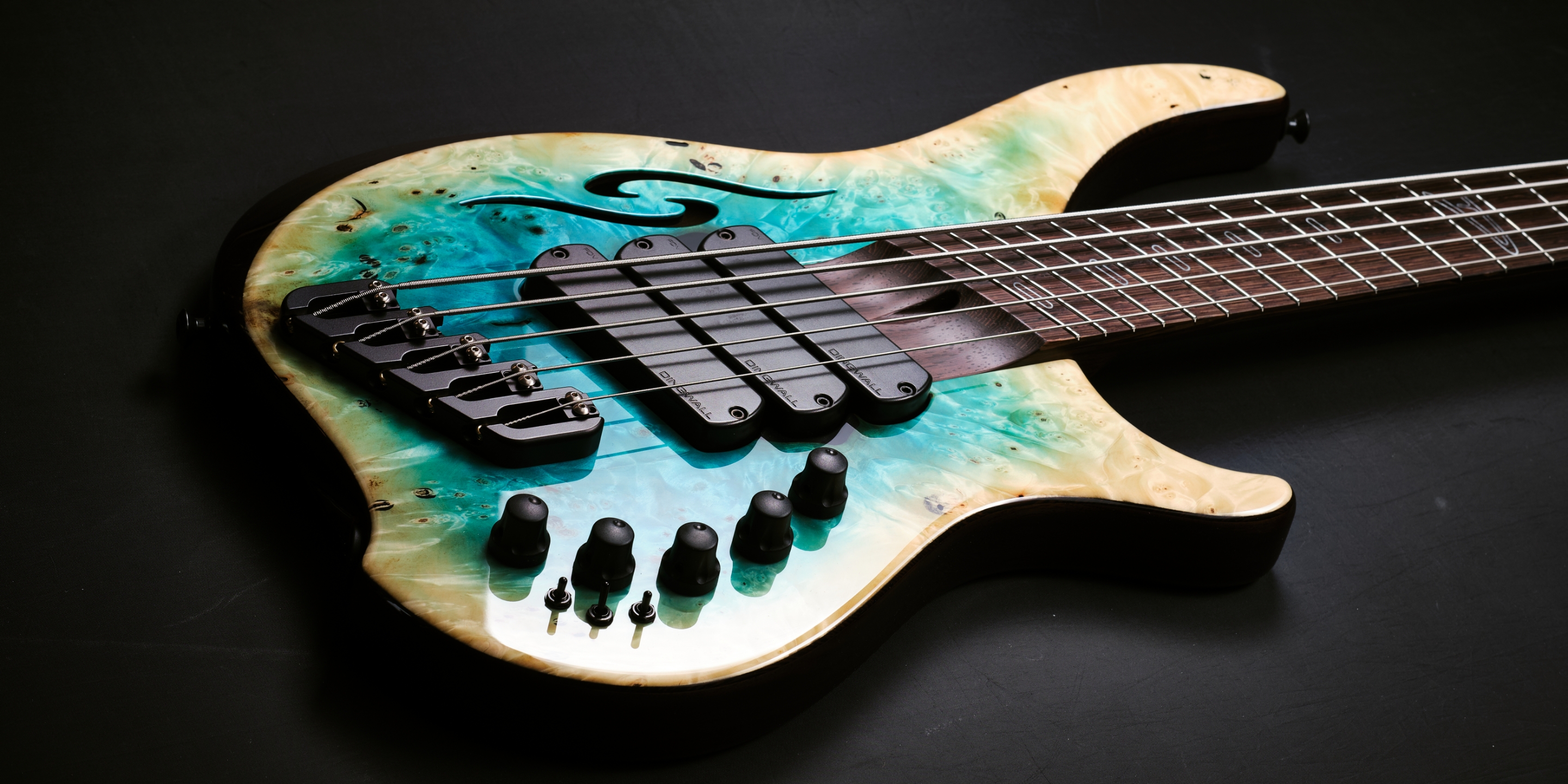 Dingwall
Afterburner II Turqiose natural Reverse Burst
Dingwall was founded by Sheldon Dingwall from Canada, and together with his team, Sheldon  is right at the forefront of designing basses. There are a lot of things that make Dingwall stand out from the rest of the bass pack: Their unique looks, lightweight build and super-fast and highly playable necks are just some of them. But their most unique quality is definitely the dedication to fanned frets.
The Afterburner II is the flagship within the Afterburner series

So, why do I need fanned frets?
Well, if you have ever played a 5 or 6 string bass, you have probably noticed that the low B-string often sounds more dull than the E-string, and the high C-string  sounds brighter and thinner than the G-string.
This is because they use the same scale length across the entire fretboard, when in reality, the B-string needs a longer scale length and the C-string should have a shorter scale length to sound its best. Dingwall's fret design combats exactly this pitfall by varying the scale length across the fretboard.
The Afterburner II has a semi-hollow Walnut body, which gives it some of the tonal qualities of Alder – but with more clarity, sustain and punch. 
The internal tone chamber also adds a subtle, yet  rich, flavour to the almighty tone already present. 
Please take moment to dwell at this Turquoise To Natural Reverse Burst Yellow Buckeye top… Come on man, it's just so stunning!
The fingerbord is Wenge, which in may ways represents the best of both worlds, combining the detailed treble sound of Ebony and the warm tone and feel of Rosewood. In short, this bass simply manages to mix fast and warm, which is quite an achievement for any bass. On top of that – or rather below it – the Afterburner II also has a Wenge neck, which gives it an incredible tight sound.  
The FDV Alnico Pickups are the standard pickups on the Afterburner II. They sound traditional and organic compared to the neodymium, but still tight, clear and very punchy. 
The 4-position rotary switch lets you choose between Bridge, Bridge/Middle , Bridge/Neck Parallel and Neck. Well, this alone would be more than enough to get you safely and blissfully through any gig, but to top it off, you also get three toggle switches that allows you to choose parallel or serial wiring on each pickup, taking tonal versatility to a whole new level. And don't worry if you are not a natural knob twister – it will soon become second nature because the advantages you get are quite servere.
The preamp is a 3-band Glockenklang, which just seems to be the perfect fit for the Afterburner II with Bass, Mid and Treble controls for fine-tuning exact spots when needed.
In so many words, this Afterburner II is nothing short of an incredible piece of art that will bless its lucky owner with a million hours of deep happiness - literally! 
Specs
Body
Body Wood

Walnut 

Body Top

Yellow Buckeye

Contrast Layer

Wenge

Colors

Turquoise To Natural Reverse Burst

Tone Chambered

Yes

Body Finish

Gloss polyester
Neck
Neck Wood

5 Pc Wenge

Fingerboard

Wenge

Frets

24

Strings

5

HeadStock

Flat, counterbored 

Neck Finish

Satin Polyurethane

Fingerboard Radius

190mm – 406mm, 7.5″ – 16″ Compound 

Fret Size

Banjo size

Nut

45.5 mm – 1.8″

Neck Construction

5 Pc Wenge

Neck Carve

Medium thin C shape

Truss Rod

Dingwall heavy duty truss-rod (double expanding)

Scale Lenght

B 37" E 36.25" A 35.5" D 34.75" G 34"

Tuning

Standard

Position Inlays

Ghost S bars with D

Side Dots

Standard
Electronics
Preamp

Glockenklang 3-band EQ

Pickup

FDV

Pickup type

Alnico

Pickup Switching

Rotary pickup selector 1-Bridge 2-Bridge/Middle series 3-Bridge/Neck Parallel 4-Neck

Toggles

Choosing the pickup in series or parallel on each pickup
Hardware
Bridge

Dingwall custom made by Hipshot 

Bridge Spacing

5 - 18mm - .709"

Tuning Machines

Dingwall custom made by Hipshot 

Control knobs

Dingwall custom soft-touch forumla

Hardware Finish

Black

Jack

Neutrik Locking

Pickguard

None