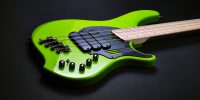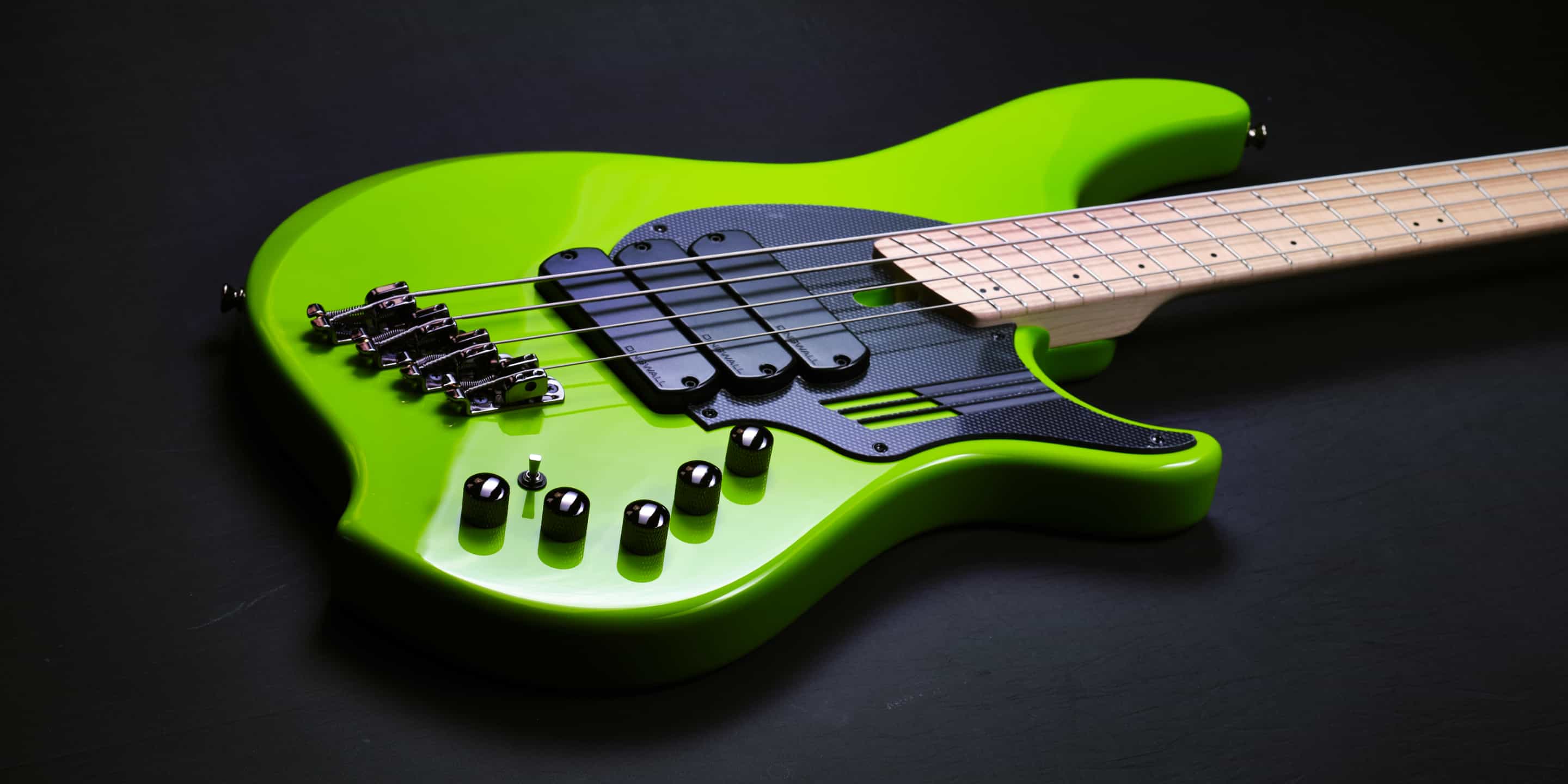 Dingwall NG3-4
Dingwall NG3 is the 4-stringed version of Adam "Nolly" Getgood's signature model. The bass player from djent/prog.metal super group, Periphery.
There is a lot of things that make Dingwall stand out compared to other bass companies. Their unique looks, lightweight build and super-fast neck are some of them, but their most unique quality is definitely their dedication to fanned frets.
Why do I need fanned frets you might ask?
Well, if you have played a 5 or 6 string bass you have probably noticed that the low B sounds more dull than the E string, and the high C will sound brighter and thinner than the G.
This is because they use the same scale length across the entire fretboard, when in reality, the B-string needs a longer scale length and the C-string should have a shorter scale length to sound its best. Dingwall's fret design combats exactly this pitfall by varying the scale length across the fretboard, so every note will jump out at you with punch, warmth and a ton of clarity.
Even though fanned frets are mostly used on extended range instruments, they also offer great benefits on a standard 4-string bass. With fanned frets every string has equal tension, which results in a more even tone overall, meaning that you don't have to adjust your attack from string to string to get optimum tonal clarity.
Dingwall's own neodymium pickups creates a powerhouse of a bass which leaves every sonic detail intact.
The look and feel of the fanned frets only take a couple of hours to get used to. So, there is nothing to be afraid of here. Only massive tonal and creative gains to be made!
Another thing that strikes me is how comfortable the neck is to play due to its more narrow profile. It's so fast that it almost plays itself.
The bass sports an alder body, maple neck and maple fretboard, which combined with Dingwall's own neodymium pickups creates a powerhouse of a bass which leaves every sonic detail intact.
The Dingwall NG2 4-string comes equipped with the Darkglass preamp that tonally fits this bass like a glove. You got master level, a rotary switch to select pickup positions, a 3-band EQ and a switch to select between active and passive operation.
Yes this is a signature model made for a progressive metal bass player, but I can tell you that this bass can play everything from funk to country and straight up classic rock without any hiccups. When it comes to value for money basses, this one goes straight to the top of my list!
Specs
Body
Body Wood

Alder

Colors

Ferrari Green

Body Finish

Satin Polyurethane
Neck
Neck Wood

Maple

Fingerboard

Maple

Frets

24

Strings

4

HeadStock

Flat, string retainer /matching headstock

Neck Finish

Satin Polyurethane

Fingerboard Radius

240mm – 9.45″ 

Fret Size

Banjo size

Nut

42 mm – 1.65″

Neck Construction

4 Piece maple

Neck Carve

Medium thin C shape

Truss Rod

Dingwall heavy duty truss-rod (double expanding)

Scale Lenght

E 36.25" A 35.5" D 34.75" G 34"

Tuning

Standard

Position Inlays

3 mm plastic face 

Side Dots

2 mm plastic side dots
Electronics
Preamp

Darkglass Tone Capsule

Pickup

FD-3N

Pickup type

Neodymium (Standard)

Controls

Volume, Pickup Selector, Bass 70Hz, Low mid 500Hz, High mid 2,5KHz

Special Electronics

Toggle Switch Active/Passive. Pickup selector, Bridge (CCW) Bridge/Middle (MM-Style) Bridge/Neck (J-Style) Neck (CW)
Hardware
Bridge

Dingwall Custom

Bridge Spacing

19 mm – .748″

Control knobs

Chrome Dome

Hardware Finish

Chrome

Jack

Electro Socket

Pickguard

Carbon Fiber Print