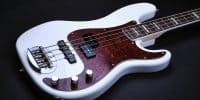 PJ White Skyline 44-64 Custom PJ
Founded by bassist Dan Lakin and luthier Hugh McFarland, Lakland (pronounced "lake-land") have since 1994 been synonymous with breathtaking bass craftmanship. From their home base in Chicago, Lakland quickly began to take the world of bass by storm with their incredibly high-quality instruments, seeing top-name players like Darryl Jones, Gail Ann Dorsey, Kat Bax, Juan Alderete and Uriah Duffy make Lakland their sonic weapon of choice.
In the early 2000s, Lakland introduced The Skyline Series, which is now made in Indonesia. This series of basses is basically unbeatable when it comes to value for money, which is why Lakland have also become such a well-respected brand amongst the weekend warriors and bedroom rockers.  The basses are all made of North American wood and features the same overall design as the US basses with some small changes in details.
Every single Lakland bass gets quality checked and PLEK'D in Chicago to meet the extremely high standards that everyone has come to expect from Lakland.
This bass is moulded from the Donald Dunn signature 44-64 P bass with an added single-coil J styled bridge pickup to make this bass more versatile.
The PJ bass has the same kind of raw girth to it but without being unpolished so to speak. The tone is full, rich and powerful with a vintage vibe that sings of all the familiar lines that were played in the 60´and 70´.
The bass features a familiar swamp ash body and maple neck, but what is unusual is that the fingerboard is made out of Indian Laurelwood which is new for Lakland. This change in wood is a response to the CITES laws regarding rosewood. The Laurelwood is very similar in sound to rosewood, but it's a bit harder and faster than rosewood which gives some more growl to it.
The 44-65 PJ comes with Lakland own Hybrid split "P" pickup & Single Coil "J" bridge pickup Hand fabricated and scatter-wound to vintage specs, but just a tiny bit hotter. It has an excellent treble response, a deep low end and is very warm in the mids, creating a perfect tonal balance that matches the bass in a very musical way. All in all a great bass if you want the combination and the versatility of the PJ sound.
Specs
Body
Body Wood

Swamp Ash

Colors

White
Neck
Neck Wood

Maple

Fingerboard

Laurelwood

Frets

20

Nut Width

38.1cm

Spacing

19mm

Strings

4

HeadStock

Standard

Tuning

Standard

Position Inlays

Pearloid block
Electronics
Preamp

Passive

Pickup

Lakland hybrid spilt and singlecoil
Hardware
Pickguard

Tortoise