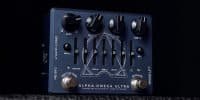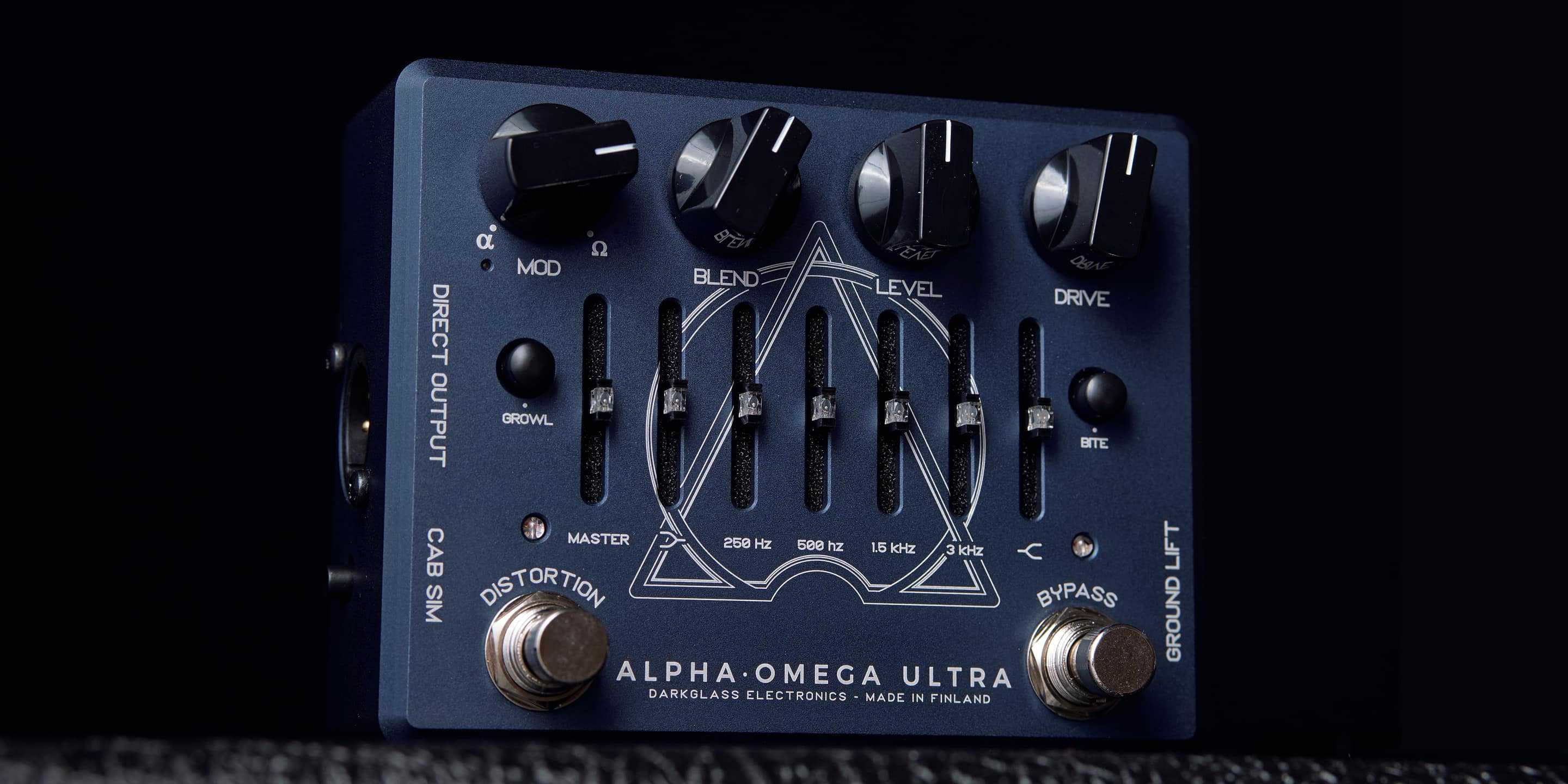 As technology progresses, more and more devices are developed and placed on the market, all stretching the envelope of what's possible. Our main goal at Darkglass Electronics is to push the boundaries of what musicians are able to achieve and to empower a musician's creativity. With the latest creation from Darkglass Alpha Omega Ultra , they are taking a step into the future and is the beginning of a new era..
The Alpha•Omega Ultra is the most versatile bass preamplifier we've ever designed. With its two distinct distortion circuits (Alpha and Omega), extremely high dynamic range, six-band active graphic EQ, dedicated headphone output and balanced direct output with switchable digital impulse-response cabinet emulation, all make for an incredibly complete tool for the modern bass player.
As more and more musicians go direct to the board, the need and benefits of incorporating studio-grade cabinet emulation into our top- of-the-line creations was evident. Now you can have an uncompromising, dead simple and ready-to-mix sound with your Alpha Omega Ultra everywhere you go!
With the Darkglass Alpha Omega Ultra pedal already achieving renowned success in 2017, the Ultra version has been designed to be exponentially more versatile with these ground-breaking features.
The frequency response from a loaded speaker cabinet is a huge part of the tone of modern music production for achieving big, natural tones out of instruments, as the raw, distorted direct signal from pre-amplifiers and pedals etc. often sound fizzy and lifeless without one. Impulse Response (IR) cabinet emulation has become extremely popular in studio and live production in recent times, to uncompromisingly replicate the benefits of real speakers (sonic-size and presence of a full-rig), without any of the drawbacks: having an acoustically treated room (or very unhappy neighbours due to the volume), carrying bulky cabinets and/or setting up expensive microphones.
The Darkglass Alpha Omega Ultra's Virtual Cabinet functionality allows you to get a consistent studio-grade setup by incorporating an incredibly accurate representation of your favourite cabinet's character. And since they exist in the digital domain, they can be changed in a matter of seconds via a USB port with the Darkglass Suite.
Available for both PC and Mac, the Darkglass Suite is a free, easy-to-use platform for experimenting with your favourite cabinet con gurations. This feature is fully switchable on the Direct Output and always-on for the headphone output, which gives you the chance to practice silently with an indescribably realistic, full-rig sound.
For downloading the Suite please go to https://www.darkglass.com/suite/
Specs
Knobs
Blend

Mixes the clean and processed signals. The clean signal remains at unity gain while the volume of the overdriven signal is set by the Level knob, allowing for fine mix tuning

Level

Sets the volume of the overdriven signal

Drive

Sets the amount of gain in the overdriven signal

Bite

Boosts High Mids (2.8kHz) for additional presence and definition.

Growl

Shelving Bass Boost for a fatter tone and increased low end saturation

Mod

Selects or mixes between the two distinct distortion circuits: Alpha is punchy, tight with a lot of definition, whereas Omega is simply brutal and raw. On the Darkglass Suite (see below) you can assign footswitch control of the Mod to toggle between Alpha and Omega.

Master

Whereas the Level knob control the output of the overdrive section the Master volume adjusts the overall volume of the unit. Ideal for fine tuning the output on clean mode. It also serves as a DI and headphone volume control. Please note that volume is not affected by this control when the pedal is on bypass

Bass

Low shelf +-12dB @ 80 Hz

Mid Bands

+-10dB @ 250 Hz, 500 Hz, 1.5 kHz, 3 kHz

Treble

High shelf +-12dB @ 5 kHz
Toggle switches
Cab Sim

Toggle the cabinet simulation on/off on the Direct Output. This switch completely bypasses all digital circuits and allows you to get a zero latency signal when needed

Grunt

Sets the amount of low frequency content to saturate by selecting between three different bass boost levels before the clipping stage.

LO-MIDS

To select between 1Khz or 500Hz

HI-MIDS push button

To select between 3 kHz or 1.5 kHz
Ground Lift
Ground Lift

Disconnects the signal ground on the Direct Output to break any ground loops. Set this switch to either position that has less noise. The switch does not affect the ¼" output
Outputs
USB

A Micro USB B connector allows you to connect the pedal to PC/Mac to load cabinet simulation impulse responses to the pedal and control various other settings.

Parrallel Output

A passthrough for your input signal, useful for parallel processing.

Instrument Output

Output for your amp

Direct Output

A balanced version of the ¼" output, useful for running into PA's or studio mixing consoles.

Headphones

Alpha·Omega Ultra has an internal stereo headphone amplifier capable of driving a minimum load of 16 ohms from the 3.5mm stereo jack. Use the Master volume control to adjust the level When the pedal is on bypass the master volume does not affect the headphone volume. In this case the total volume is adjustable in Darkglass Suite. With sensitive headphones the bypass volume can be very loud if not adjusted
Dimensions
Dimensions

Width 125 mm (4.92 in) Height 96 mm (3.77 in) Depth 57 mm (2.24 in)

Weight

430 g (0.94 lb)
Power
Power

9V DC center negative DC current consumption 110 mA