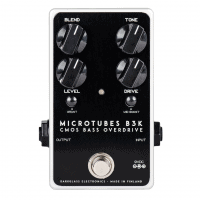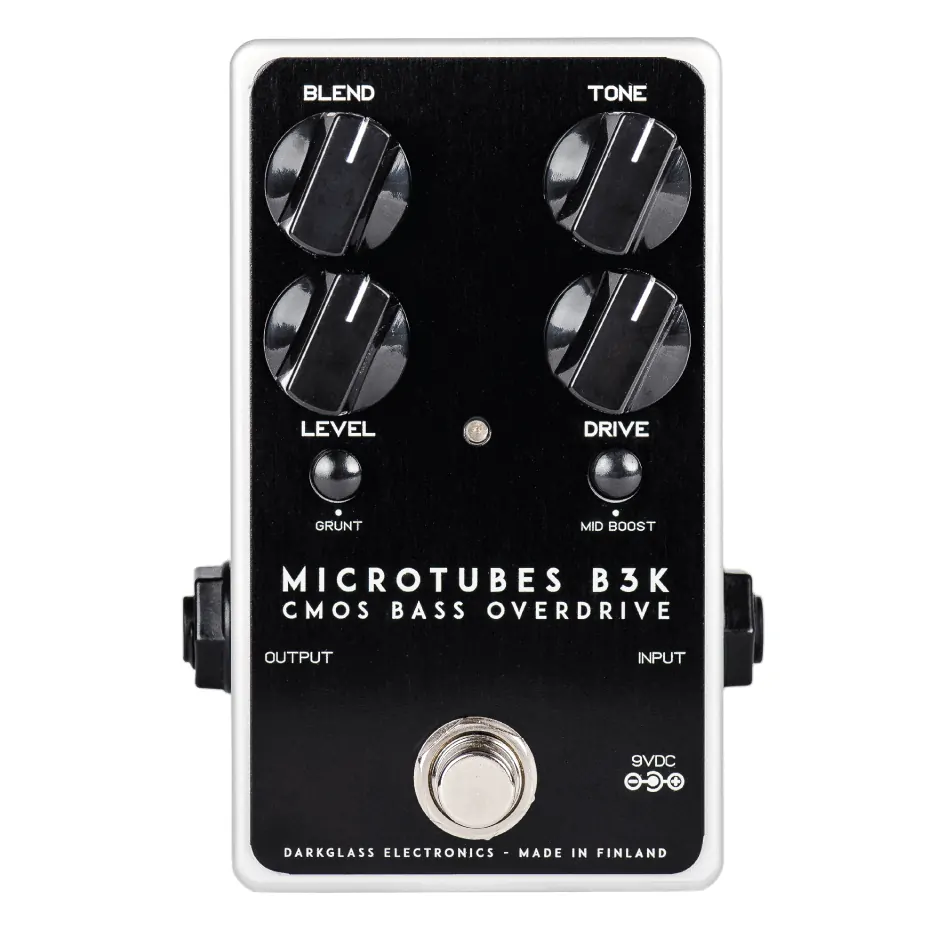 $

212.23excl. VAT
In stock
Microtubes B3K v2
A perfect combination of brutality and clarity, the original Microtubes B3K delivered a sharp and scooped overdrive tone (like a modern tube amplifer) in a really easy to use pedal. Its dead simple control layout was key to the Darkglass initial success. As it is virtually impossible to set it the "wrong way", the three knobs and toggle switches made it easy to fnd useful tones while rarely getting something that wasn't useful and appealing.
However, after being at the top of the feld for nearly 7 years, Darkglass thought the time had come to implement some of the engineering tricks they have learned in their relatively short journey and give this much-loved pedal the upgrade it deserved. So, with the Microtubes B3K V2 you get all the features of the original, but now get the added ability to restore the mid-range for a natural character if needed.
The attack switch has now been replaced by the tone knob, giving much more control of the higher harmonic content (3 kHz to 8 kHz). The grunt switch is still present, as you would expect, but this now comes in the form of a mid-boost, giving you a subtle 6dB boost from 300 Hz to 1 kHz. This can help you to cut through a bit more in busy mixes.
Fundamentally the Microtubes B3K V2 is the same pedal Darkglass designed nearly a decade ago, aimed to give you a perfect combination of brutality and clarity. You can guarantee that the updated version will deliver defned and powerful saturation in an intuitive format.
There are no rules and no limits, so dig in and unleash your tone.
Specs
Knobs
Blend

Mixes the clean input signal with the overdriven signal. The clean signal remains at unity gain while the volume of the overdriven signal is set by the Level knob, allowing for fine control of the blend ratio.

Level

Sets the volume of the overdriven signal.

Tone

Controls the high frequency content of the sound. A variable low pass filter from 3kHz (ccw) to 8kHz (cw).

Drive

Sets the amount of saturation in the overdriven signal.
Toggle switches
MID Boost

Gives a subtle 6dB boost from 300 Hz to 1kHz to help you cut through a bit more.

Grunt

Sets the amount of low frequency content to saturate by selecting between three different bass boost levels before the clipping stage.
Dimensions
Dimensions

11.3×7.5 cm (4.45×2.95 in)
Power
Power

The Microtubes B3K has a current draw of 20mA. Only use a regulated 9V DC adapter with a center-negative plug. Due to ecological reasons it does not accept batteries. Unregulated power supplies and/or higher voltages may result in suboptimal noise performance and even damage your unit, voiding the warranty.