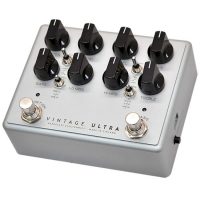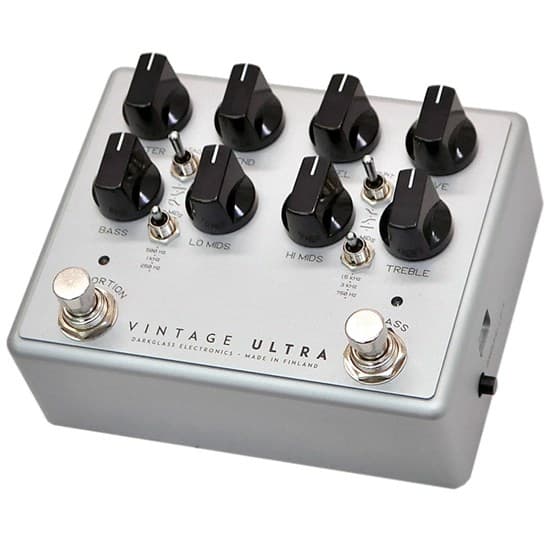 Darkglass
VINTAGE ULTRA V2 (AUX-IN)
$

407.59excl. VAT
In stock
The upgraded Vintage Ultra V2 features all the versatility and sonic possibilities of the first version plus: (1) Single user loadable cabinet simulation impulse response. (2) Micro-USB B port to connect to PC/Mac to load a different Virtual Cabinet through the Darkglass Suite. (3) 3.5mm headphone output with cabinet simulation. (4) Balanced XLR output with switchable cabinet simulation (4) aux in
Specs
Knobs
Master

Whereas the Level Knob controls the output of the overdrive section the Master volume adjusts the overall volume of the unit. Ideal for fine tuning the output on clean mode. It also serves as a DI level control.

Blend

Mixes the clean input signal with the overdriven signal. The clean signal remains at unity gain while the volume of the overdriven signal is set by the Level knob, allowing for fine control of the blend ratio.

Level

Sets the volume of the overdriven signal.

Drive

Sets the amount of gain in the overdriven signal.

Bass

+-12dB @ 100Hz

Low Mid

+-12dB switchable 250Hz, 500Hz and 1kHz

Hi Mid

+-12dB switchable 750Hz, 1.5KHz and 3kHz

Treble

+-12dB @ 5kHz
Toggle switches
Cab Sim

Toggle the cabinet simulation on/off on the Direct Output. This switch completely bypasses all digital circuits and allows you to get a zero latency signal when needed.

Attack Switch

Sets the amount of treble content to saturate: The "Boost" setting emphasizes the treble content extra clarity and presence. The "Flat" position leaves this register untouched while the "Cut" position will reduce the amount of high frequencies being saturated.

Grunt Switch

Sets the amount of low frequency content to saturate by selecting between three different bass boost levels before the clipping stage.
Ground Lift
Ground Lift

Yes
Outputs
Direct Output

A balanced version of the ¼" output, useful for running into PA's or studio mixing consoles.

Headphones Output

Vintage Ultra has an internal stereo headphone amplifier capable of driving a minimum load of 16 ohms from the 3.5mm stereo jack. Use the Master volume control to adjust the level.

USB

A Micro USB B connector allows you to connect the pedal to PC/Mac to load cabinet simulation impulse responses to the pedal and control various other settings.

Instrument Output

Output for your amp

Aux in

This 3.5mm stereo input allows you to practice with backing tracks from e.g. your smartphone or laptop. Auxiliary input can only be used with the headphone output. The pedal does not control the level, it must be set from your audio source. Remember to always first set the level low before connecting anything to the aux in!
Dimensions
Dimensions

10.7x12 cm (4.21x4.72 in)
Power
Power

The Vintage Ultra v2 has a current draw of 110mA. Only use a regulated 9V DC adapter with a center-negative plug. Due to ecological reasons, it does not accept batteries. Unregulated power supplies and/or higher voltages may result in suboptimal noise performance and even damage your unit, voiding the warranty